Carrier One Safety Director Recognized by Illinois Trucking Association
Press Release
-
updated: Nov 7, 2019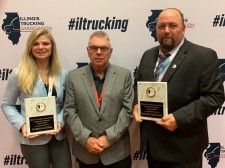 ALLSIP, Ill., November 7, 2019 (Newswire.com) - Carrier One Director of Safety Milton Van Horn was recently named the Illinois Trucking Association's (ITA) Safety Professional of the Year. He was honored with this award during ITA's annual meeting expo on Sept. 17-19 in Normal, Ill.
Van Horn was nominated for the award because of his outstanding support and service to safety at Carrier One, a privately-owned flatbed carrier based in Alsip, Ill. According to Matt Hart, executive director of ITA, this award was initially created in 2013 as a way for ITA to recognize the hardworking men and women who have devoted their lives to the safety of the highways and trucking industry. Nominees must go above and beyond in their work for the Illinois Trucking Association and promoting safety in trucking. Van Horn received a plaque for this recognition.
"We are extremely proud of Milton here at Carrier One," said Jason Schaftlein, director of recruiting and retention for Carrier One. "His influence on our safety culture is significant which is why we're one of the safest companies on the road today. This recognition is well deserved."
Van Horn has been working in the trucking industry for 29 years — 17 of those years as a driver and the last 12 working in safety. His years of experience have helped him understand what today's drivers face on the road and how to help prepare them to be better drivers.
"We educate, train and inform our drivers how to operate safely on the highways and keep themselves and the general motoring public safe," said Van Horn. "Our safety department is always available to our drivers and is the most valuable tool in their toolbox. Safety is the cornerstone of our organization."
Other Carrier One personnel who were recognized by ITA include Marissa Jansma, DOT Compliance Specialist, and Shannon Doughty, Orientation Manager. Both of these individuals were honored for their participation in the Illinois Trucking Leadership Program. This program helps up-and-coming professionals in trucking to enhance their leadership skills and increase professionalism in the industry. Jansma was also selected to be on a panel of professionals to determine the ITA fleet and driver of the year awards.
Founded in 2003, Carrier One is a privately-owned flatbed carrier that operates primarily east of the Rockies. The company prioritizes safety, reliability and building strong relationships with customers across the country. Recently, Carrier One was awarded a Fleet Safety Award from the Illinois Trucking Association — one of the top three safest companies in the state of Illinois.
To learn more about service or careers at Carrier One, visit drivecarrierone.com or call 888-997-1082.
###
Source: Carrier One
Share:
---
Categories: Trucking
Tags: award, Carrier One, flatbed, independent contractor, safety, trucking
---