Carole Feuerman Unveils New Hyperrealistic 14-Foot Sculpture of Dancers at the National Hotel
Press Release
•
updated: Feb 26, 2018
Reception for artist Carole Feuerman on Wednesday, March 7, 6:30 p.m. - 9:00 p.m.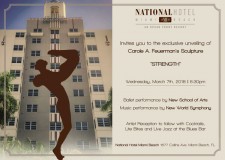 MIAMI, February 26, 2018 (Newswire.com) - Famed American hyperrealist sculptor Carole Feuerman is returning to The National Hotel in Miami Beach to unveil her stunning, hyperrealistic bronze sculpture of two dancers, titled "Strength," during a public ceremony, followed by a cocktail reception, on Wednesday, March 7 from 6:30-9:00 p.m.
To commemorate the occasion, a duet of strings from New World Symphony will perform an original piece. Alongside the ensemble, two dancers from New World School of the Arts will recreate the pose of the dancers in Feuerman's sculpture and dance to the rhythm.
"Strength" is one of the most recent pieces in a series of more than 15 sculptures of dancers that Feuerman created over the past two decades. "I created 'Strength' to reflect the power of the dancer to achieve strength through teamwork and collaboration," expressed artist Carole Feuerman. "It shows that wonderful things can be achieved through inner strength, confidence, trust, and perseverance."
Strength, survival, perseverance, and trust are themes that run throughout all of Carole Feuerman's work both in her Dancer series and her iconic Swimmers series. Her newest sculpture "Strength" examines these issues, which are recurring in all of Feuerman's work since the 1980s.
Inspired by real-life dancers, Feuerman's piece was modeled after American classical dancers Steven Melendez and Amanda Treiber, both from the New York Theatre Ballet.
Feuerman is one of three artists who started the hyperrealism movement in the late '70s, and the only figurative artist to hyperrealistically paint bronze for use in outdoor public art. Known for exploring the three-dimensional world of figurative sculpture, Feuerman's concentration in realism is indicative of her desire to sculpt the human body, forging historical links with the past while revealing her compelling vision for the future.
Feuerman's solo exhibitions can be seen in Italy, Germany, and China, and has several national public collections from New York to California. Sculptures in various techniques by Feuerman have been acquired for the permanent collections of nineteen American art museums. Feuerman's exhibition in Miami, including "Strength," is represented by Markowicz Fine Art.
In 2015, art collectors, artists, luxury brands and visitors on South Beach were submerged in the ultimate art experience as they were swept away with Feuerman's incredibly hyperrealistic, bronze statues of swimmers and divers, in and around The National Hotel. Most notable and memorable, Feuerman displayed "The Golden Mean," a 16-foot male diver statue representing the struggles to achieve perfect balance, in front of the hotel. "The Golden Mean," which became synonymous with the hotel's exterior facade and a popular spot for visitors to take a photo in Miami Beach, remained on display in front of the hotel until the end of 2017. "Strength" now sits in the place "The Golden Mean" once stood and will remain on display through the end of 2018.
Carole Feuerman will attend a meet-and-greet for attendees at the unveiling of "Strength"
The National Hotel
1677 Collins Ave, Miami Beach, FL 33139
Wednesday, March 7
6:30 p.m. - 9:00 p.m.
To RSVP to the unveiling cocktail reception and meet artist Carole Feuerman:
please email rcastro@thedanaagency.com or call 305.758.1109
For More Information, please contact:
Jennifer Gross
Evolutionary Media Group
jennifer@emgpr.com
O: 323-658-8700
Source: Carole Feuerman
Related Media