Carole Feuerman Takes Europe by Storm With Public Art Installations
Press Release
•
updated: Jul 24, 2017
Feuerman's Sculptures Installed Throughout Europe: Venice, Capri & Positano, Kassel, Basel, and Porto Montenegro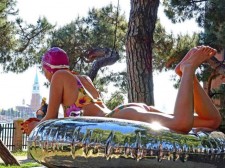 New York, NY, July 24, 2017 (Newswire.com) - Art lovers around the world will be going to Europe over the next five months to see the art chosen for the Venice Biennale, Art Basel and Documenta 14. If you are going to Europe, you should stop in to see Carole A. Feuerman's latest public exhibitions! Let me tell you about the shows that are currently in place.
The first show you should see is her solo exhibition in Venice featuring ten iconic outdoor sculptures. Located right next to the Venice Biennale on the canal Arsenale stop, her sculptures are keeping the largest yachts company. This exhibition, "Personal Structures, Open Borders" is installed in the Giardino Della Marinaressa (Riva dei Sette Martiri, 30122 Venice, Italy) and is open to the public through December 5, 2017, from 10:00 am to 6:00 pm daily, but her Venice shows do not stop there. Her works can also be seen in Palazzo Mora, Palazzo Bembo, San Clemente Palace, and Bel-Air Fine Art Gallery.
After Venice, head down to the Amalfi Coast where you can see Feuerman's Monumental Quanon display in Positano at Liquid Art System. Then take the ferry to Capri to see Feuerman's most iconic sculpture, Survival of Serena, on display in the center of the Piazzetta! Since the moment of its installation, people cannot stop photographing the sculpture or asking to be photographed close to "her" with the backdrop of the majestic Mount Solaro, overlooking the Bay of Naples. Take a look on Instagram at #carolefeuerman.
After Italy, make your way north to Switzerland. Art St. Urban Foundation in Lucerne has a permanent exhibition of Feuerman's earlier erotic pieces. It is located in the former Cistercian monastery of St. Urban and dates back to 1184. Nestled in an enchanting landscape, Art St. Urban offers the unique and impressive environment of art installations throughout the property. The building that now houses the museum was once used as a psychiatric clinic of the canton of Lucerne since 1873. The installation was organized by Gertrud Aeschlimann and curated by Peter Frank, Art Critic at The Huffington Post and Associate Editor for Fabrik Magazine.
Art St. Urban has developed into an important art center with the participation of regional, national and international artists, art enthusiasts and art lovers, becoming a unique cultural platform for art education and art promotion.
I'm sure you want to see Documenta as well, so head to Germany to view Feuerman's latest collaboration with world-renowned furniture designer Masin Idriss. Feuerman's work is presented by Galerie Klose (Wilhelmsstraße 8, 34117 Kassel, Germany) for this two-person exhibition during Documenta 14. The exhibition runs from June 18 through September 17, 2017. Feuerman's sculptures are installed in the context of his furniture designs highlighting her new tabletop-sized "Quan" along with six other tabletop-sized pieces.
Bel-Air Fine Art in Porto Montenegro will prominently display Feuerman's monumental outdoor bronze sculpture, Beyond The Golden Mean. Towering 16-feet in the air and weighing 1.5 tons, the sculpture balances on 6-inch wrists. It brings Feuerman's message of perserverence, achievement, and balance to the viewer. It took over 8,000. hours and more than 5 years to create. To learn more about the process click here.
Feuerman is recognized as a pioneering figure in the world of sculpture. She is one of the three artists, along with Duane Hanson and John De Andrea, who started the movement in the late seventies by making life-like sculptures that portrayed their models precisely.
Snap some selfies with Feuerman's sculptures and tag them with #carolefeuerman so we can see where you've traveled. Enjoy the summer!
Website: www.carolefeureman.com
Facebook: https://www.facebook.com/caroleafeuerman/
Instagram: https://www.instagram.com/carolefeuerman/
Twitter: https://twitter.com/carolefeuerman
Media Contact:
Jennifer Gross | Evolutionary Media Group
Jennifer@emgpr.com
O: 323-658‐ 8700
C: 323-646-8412
Source: Evolutionary Media Group
Related Media