Career Mastered 2023 National Women's History Leadership Awards Announced
Press Release
•
updated: Feb 12, 2023
Outstanding Women Achievers in Competitive Fields Selected; Honorees are Exceptional Role Models of What Women Can Accomplish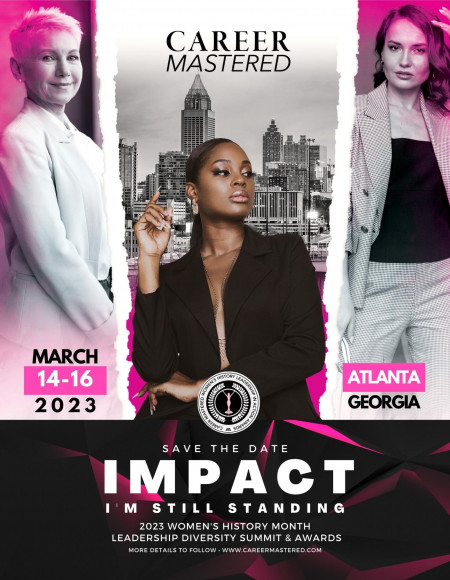 DETROIT, January 27, 2023 (Newswire.com) - Linwick & Associates announced the Career Mastered Awards Class of 2023 will be honored during the National Women's History Leadership in Action Charity Awards hybrid event on Wednesday, March 15, 2023. Career Mastered Women's History Leadership in Action Awards is the crown of the March 14-16 Career Mastered Diversity Summit & Leadership Awards, routinely attracting a sell-out crowd. Linwick & Associates, LLC., the parent company of Career Mastered Magazine, in conjunction with its sponsors, will honor the achievements of women who have made a compelling mark in business.
Honorees represent powerful women across diverse industries and disciplines. These women leaders are Game Changers who have mastered their work and have learned the necessary steps to move ahead and build successful careers. The honorees are exceptionally strong role models of women shattering limits and what a woman can accomplish. IMPACT: I'm Still Standing is the 2023 Theme. "It is a powerful time to be a woman," says Dr. Lisa J. Lindsay Wicker, President & CEO Linwick & Associates, and Career Mastered Founder. "We're thrilled to honor remarkable women who make a difference each day while inspiring future generations. Sharing 'her' story and achievements provides an expansive pathway of history for years to come."
National Career Mastered Women's History Leadership Awards Class of 2023
Master Award Honorees:
The Honorable Phinia Aten, Chief Judge, Rockdale County Magistrate Court, Georgia
Tracey Brown, President, Walgreens Retail, and Chief Customer Officer, Walgreens Boots Alliance
Karen Swensen, Founder, Life's About Change; Today Show "Changing Chapters" Contributor, Former News Anchor, WWL-TV
Leadership Award Honorees:
Jillian Blackwell, Global Sr. Marketing Manager, Amazon
Dr. LaCesha Brintley, General Surgeon, Ascension Providence Hospital
Natalie Brown, Senior Director, Corporate Citizenship, Ally Financial
Ann Cone, Senior Vice President, CBRE
Kathy Pressley, CPM, VP Asset Management, MECA Commercial Real Estate
Marilyn Horn, President & Chief Financial Officer, 98Forward
Dr. Miranda Hill Jones, Pharmacist & Lawyer, Kroger, Metro Drug Information Services Metro Health & Wellness
Trina Smith Joseph, Managing Partner, Coro Realty Advisors
Meghan Juday, Chairman of the Board, Ideal Industries
Marlo Orlin Leach, Managing Member, Leach & Lowe
Dr. Kim Logan-Nowlin, President & CEO, Kim Logan Communication Clinic Inc.
Barbara McKay, Media Personality and Author
Marcia Mickle, Plant Manager, ARO Homes
Bre Mills, Vice President, Midwest Area Manager, JP Morgan Chase
Roslyn Bazzelle Mitchell, Principal, RBM Law Group
Denise Quarles, Head of External Affairs, Siemens
Christine Chipurnoi, MS, CPCU, RPLU Partner / Executive Vice President, USI
Gloria Samuel, SVP, Director of Program/Project Management, Fifth Third Bank
Trina Scott, Vice President, Civic and Community Affairs, Rocket Companies
Ellen W. Smith, Partner, Parker Poe Adams & Bernstein LLP
Sadhvi Subramanian, SVP, Market Manager, East Commercial Real Estate, U.S. Bank
Roberta Sydney, Independent Board Director, ARIS (REIT)
Michelle L. Taylor, Director, New Product Quality CHVAC Trane Technologies & Independent Board Director, Griffon Corporation
Marisa Thompson, Managing Director, Development, The Fallon Company
Margi Vagell, Senior Vice President & General Merchandising Manager, Hardlines, Lowes Companies, Inc.
Lisa Vogel, Senior Vice President, Boston National Title Agency, LLC.
Mary Wilken, Chief Operating Officer, Insite Properties, LLC.
Dr. Geneva Williams, President & Chief Executive Officer, Dr. Geneva Speaks, LLC.
Emerging Leaders
Diamond Brown, CEO & Founder, Diamond's Body Care
Synettra Coleman, VP, Business Development Manager, JP Morgan Chase
Samara Cook, Strategy & Analytics, Deloitte Consulting LLP
Vivian Delgado, CEO, Vivid Inc.
Velita Faulk, Founder, Official Ink Notary Services
Jacinthe Galpin, Director Command Center, Lowes Companies, Inc.
Melissa Blount-Garner, VP and Director, Community Affairs, Fifth Third Bank
Cornetta Levi, Health Care Supervisor, Walgreens
Tracy Lewis, CEO, Lewis & Associates LLC.
LaQuita Monley, CEO, LaQuita Monley Solutions
Lauren Fitzpatrick Shanks, Founder & CEO, KeepWOL
About the Career Mastered Leadership in Action Awards:
The Career Mastered Awards is the leading Women's History Month Awards honoring today's women leaders who take charge of their careers and their futures. The Award honors amazing women who have made a compelling mark on business. Since 2015, Linwick & Associates Career Mastered Awards celebrates and acknowledges the victories, challenges, and stories of the women who have helped to make our country what it is today. Proceeds from this program directly support Excel Village, a nonprofit organization whose mission is to provide mentoring and scholarships for girls.
About Linwick & Associates, LLC:
Linwick & Associates, LLC is a global human resources consulting firm with offices in Metropolitan Detroit and Charlotte, NC. The mission of the company is to create organizational value through people. Its Founder, Dr. Lisa J. Wicker, is internationally recognized as a leader in human resources management with more than 30 years' experience in organizational dynamics and change management across Fortune 50 Companies. Additionally, she is the founder and publisher of Career Mastered Magazine & Women's Leadership Awards.
To join the conversation:
Website: www.careermastered.com Website: www.excelvillage.org
Facebook: facebook.com/careermastered Instagram: @careermastered YouTube: drlisawicker
Source: Linwick & Associates, LLC.
Related Files