Career Group Companies is Recognized by Forbes as One of America's Best Recruiting and Temporary Staffing Firms
Press Release
•
May 3, 2023
The Women-Owned recruiting and advisory firm ranked in the Top 40 on Forbes' 2023 List of America's Best Recruiting Firms, in all three major categories.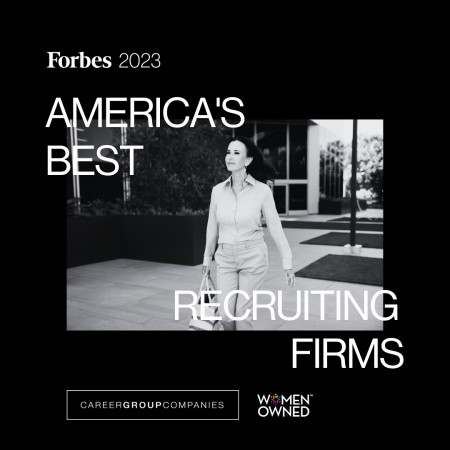 LOS ANGELES, May 3, 2023 (Newswire.com) - Career Group Companies, a nationwide recruiting and advisory firm, has been recognized by the Forbes 2023 List in the Top 40 of all three major categories: America's Best Professional Recruiting Firms, America's Best Executive Recruiting Firms, and America's Best Temp Staffing Firms, as a result of an annual independent study. The Women-Owned recruiting firm is honored to be recognized by Forbes for its leading, high-touch approach.
"I am proud of the strong people who work in our firm, who have elevated us and propelled us forward to become a strategic leader in recruiting throughout the country," states Susan Levine, CEO and Founder of Career Group Companies.
This past year, business owners and leaders were faced with a shortage of strong candidates in what remains a competitive candidate market.
"Although we have all felt the shifts and changes in the labor market, our clients are still hiring consistently, but with less of a frenzy and more strategically. Our ability to secure strong talent for our clients is key to our business, while shaping company cultures with the right talent," states Susan Levine.
Career Group Companies stands out amongst the leading firms throughout the country due to its high percentage of long-term clients that has expanded over the decades. The company's recruiters are experts within their respective industries and have built a strong network over the last 40+ years — allowing for strong collaboration and connections between clients and the best talent on the market. Career Group Companies is also named on Inc. Magazine's Best in Business List (2022), and Susan Levine was recently recognized on Inc. Magazine's Female Founders 200 List (2023) for being a recruiting powerhouse.
Forbes partnered with analytics firm Statista to survey over 45,000 external recruiters, HR or hiring managers, and participants who've worked with at least one of the firms. In total, 5,200 survey participants voted, and 500 firms make up the three lists—150 companies in the executive search category, 200 companies in professional search, and 150 companies in temp staffing. Forbes's final rankings have become an industry-leading data point as companies evaluate the best recruiting and staffing firms to work with.
About Career Group Companies
Career Group Companies was founded in 1981 by CEO Susan Levine and is a recognized leader in sourcing exceptional talent across a wide array of industries. The firm specializes in both temporary and direct hire placement for administrative support, accounting and finance, executive search, fashion, creative and marketing, tech, as well as payrolling services. The high-end firm boasts a nationwide reach with offices in Los Angeles, New York, San Francisco, Miami, Dallas, and Greenwich. Career Group Companies is a certified National Women-Owned Business by the WBENC, and recognized diversity staffing partner.
Source: Career Group Companies