Career Companion Launches: Make Career Bliss a Reality
Press Release
•
updated: Mar 17, 2018
One-stop shop to manage a career in a simple, effective, and flexible way.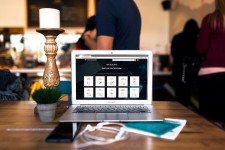 SAN FRANCISCO, March 17, 2018 (Newswire.com) - The typical person spends over 50 percent of their awake hours on their career. A person's career is a major contributor to their happiness, lifestyle, as well as a source of security and stability. However, studies show that 52 percent of people are not happy with their career for more than one reason. Career Companion believe in a simple principle, 'each person is the CEO of their career and it's the person's responsibility to lead their career in a strategic, systematic, and resourceful way.'
Career Companion is the first comprehensive career platform which provides users with a one-stop space to manage all aspects of the career. The platform compiles tools, processes, and techniques to help design career blueprint, prepare for career success, and drive career fulfillment:
First advice a career coach provides is to better understand yourself. Career Companion provides the tools and resources to better understand oneself, needs, and aspirations.
Interviews can make or break the dream job. Preparation for interview success has two key ingredients: content and delivery. Career Companion provides the space to develop a responses to interview questions that can scale through all interviews.
Average job search takes 43 days. Career Companion believes this can shorten by applying operational efficiency principles to job search. Career Companion provides the structure to manage job search process end-to-end.
Making the most of a job is as important as finding the perfect job. Career Companion provide tools to focus on the ingredients of a successful job: fostering relationships, achieving goals, and learning from experience and feedback.
Experiences are what drives our learning and help individuals grow. Career Companion provides a systematic way to keep track of experiences, insights etc. in one place so valuable information like ideas, feedback, milestones, learnings etc. are just two clicks away.
Career Companion has a simple vision: to help people achieve career bliss. Career Companion is for people who are passionate about their career and want a well-designed structure and organized system to manage all aspects of their career.
Get Started with Career Companion Today!
For a limited time, Career Companion is free. Career Companion is excited about the endless possibilities of being a Career Companion. For more information about Career Companion, email hello@careercompanionship.com.
Source: Career Companion
Related Media
Additional Links