Cardano Digitises Asset Manager Due Diligence With DiligenceVault
Press Release
•
Sep 7, 2023
Cardano adopts DiligenceVault for manager research, operational due diligence and ESG assessment because it is flexible, integrates with their existing systems and has the largest ecosystem of asset managers & GPs.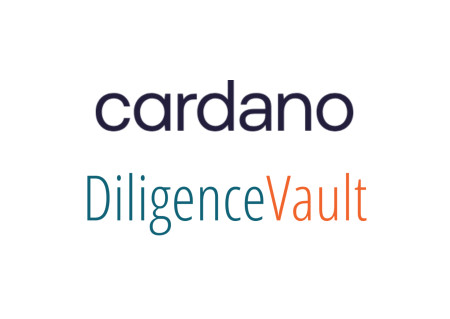 LONDON, England, September 7, 2023 (Newswire.com) - DiligenceVault and Cardano announce that the investment manager has adopted the DiligenceVault platform in the UK to automate data collection for due diligence and monitoring and to support their bespoke research needs for the sustainable investing, manager research and operational due diligence teams.
Cardano is an Anglo-Dutch investment manager and advisory business that advises pension funds and other long-term savings organisations. Sustainability is at the heart of Cardano's offering and that requires building a data framework to deepen the focus. The firm's continued growth meant they sought a technology solution that scales their data strategy and also integrates with their research management solution, FactSet RMS and their CRM Microsoft Dynamics.
DiligenceVault will enable Cardano to receive and review a much broader range of asset managers while strengthening their proprietary research framework. In turn, the increased productivity and efficiency will benefit their clients.
Ben Cooper, head of manager research, Cardano, said: "We selected DiligenceVault because it ticked many of our boxes as we focus on the big picture: it helps us cover a greater manager universe without putting the manual burden on our analysts; respond faster to shifts in markets, strengthens our analytical capabilities, enable us to benchmark and rate the managers using our own methodology; allows native integration with our RMS and CRM systems; and it also makes it easier for our managers to submit their data back to us."
Keith Guthrie, Deputy Chief Investment Officer, Cardano, added: "We incorporate environmental, social and governance (ESG) risks and opportunities into all our investment analysis, decisions and advice. Alongside helping our managers be in keeping with industry best-practice, we also aim to align our reporting frameworks with the likes of PLSA, TCFD, and PRI. DiligenceVault's integration with these industry standards and frameworks, and how we can now collect all this data in a centralised and standardised way, allows us to deliver more value to our clients".
Guillaume Rouault, EMEA Director for DiligenceVault, said: "We are excited to be working with Cardano, and supporting their investment process and differentiated approach. This relationship also highlights the potential of integrating best-in-class technology solutions to ensure our clients can make the most of their data from DiligenceVault. Our two firms are working well together already and we are grateful to Cardano for entrusting us to be part of their digital strategy."

About Cardano
Founded in 2000, Cardano is a privately-owned investment management and advisory business with a focus on risk and sustainability. Widely recognised as a market leader, our c. 550 professionals support pension schemes and other long-term savings organisations in the United Kingdom and the Netherlands to secure better, resilient, and more sustainable financial outcomes for savers, employers and wider society.
Advisory: A pensions covenant, investment, sustainability, corporate finance and risk advisory business serving over 400 scheme and corporate clients. Our scheme clients have aggregated assets of over £400bn.
Investment Management: A purpose-built investment management and fiduciary management provider, with a leading-edge sustainability offering, serving long-term savings clients and pension schemes, with risk management requirements. Cardano has over £40bn of assets under management and £32bn of assets under advice as of 31 December 2022.
DC: We manage over £15bn in DC assets across the UK and the Netherlands. In the UK, we operate NOW: Pensions, an award-winning UK workplace pension provider, serving 2m members and tens of thousands of employers from a wide range of industry sectors.

About DiligenceVault
DiligenceVault is the investment industry leader in offering a comprehensive due diligence technology platform for asset owners, allocators, consultants, and fund managers. Today, over 50,000 users leverage DiligenceVault in digitizing and streamlining their due diligence framework, moving away from previously manually intensive, Word- and Excel-based, and error-prone diligence processes. Founded in 2014, the firm delivers a global support commitment with teams in New York, Australia, Singapore, India, and London. www.diligencevault.com
Source: DiligenceVault