Captivating New Audiobook Helps Trauma and Cult Survivors Find Hope Through Humor
Press Release
•
updated: May 22, 2023
Two Tickets to Paradise - From Cult to Comedy; A Memoir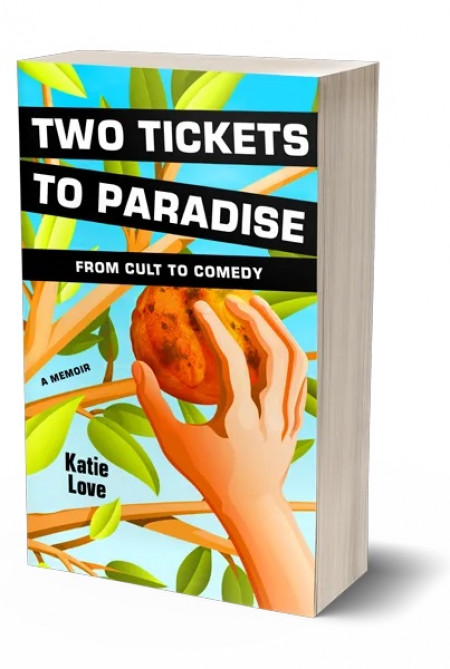 LOS ANGELES, May 22, 2023 (Newswire.com) - Crewest Studio, an independent publisher with a focus on the arts, and Katie Love, critically-acclaimed author and comedian, today announced the launch of Love's new audiobook, "Two Tickets to Paradise - From Cult To Comedy." This unique and powerful memoir is a testament to the power of humor as a healing force for trauma and cult survivors. The audiobook, a heartfelt exploration of Love's life journey from childhood trauma to redemption through humor, is now available on Audible and Amazon via https://fromculttocomedy.com.
With an engaging narrative style, "Two Tickets to Paradise" shares the tale of nine-year-old Katie discovering her mother's suicide, only to be taken in by her older sister and shown a path of hope by entering a controlling religious group. Katie's initial pursuit of perfection and entrance into "Paradise" unfolds with both heartbreak and humor, perfectly capturing the dichotomy of the human experience. As her devoutness to the religion evolves into a nightmare, she ultimately finds a way to escape, allowing humor and self-discovery to guide her toward healing.
Striving to foster a sense of connection, empathy, and healing among listeners, this powerful memoir is certain to resonate with survivors of trauma and control-based groups. The honest account and universal themes ensure that the audiobook will appeal to a broad spectrum of audiences, transcending any particular religious or cultural background.
Kirkus Reviews commends Love's talent as a storyteller, stating, "a bighearted personal story about the creation of an artist," and recognizes her ability to evoke emotions and authenticity in her compelling memoir. The engaging narration invites the reader into Love's world, delivering a story that is poignant, hilarious, and ultimately, inspiring.
Katie Love, herself a talented writer, comedian, writing coach, and producer, takes the reader on the journey from the trials of her troubled past to her emergence as an accomplished humorist. Through her unflinching examination of her childhood experiences, she discovers the transformative power of laughter and forges a connection with those who have walked a similar path.
The audiobook adds a new dimension to the already powerful written word, allowing listeners to hear Love's compelling story directly from her own voice. This immersive experience promotes an even deeper connection, as Katie narrates the events that shaped her life and her journey towards healing.
The launch of the "Two Tickets to Paradise - From Cult To Comedy" audiobook, released by Crewest Studio, provides a beacon of hope and encouragement to those who have endured trauma or control by emphasizing the power of humor, personal growth and resilience, and the possibility of positive change. It is certain to leave a lasting impact on listeners from all walks of life.
Just in time for summer reading, "Two Tickets to Paradise - From Cult To Comedy" is also available in paperback and Kindle formats, offering readers multiple ways to enjoy Katie Love's inspiring story. To find the most convenient option and enjoy this unforgettable memoir, visit https://fromculttocomedy.com.
About Crewest Studio
Crewest Studio is a Los Angeles-based production company specializing in arts and culture programming across film, television, podcasting, publishing and events.
Source: Crewest Studio LLC