Cancer Horizons Forms an Alliance With Lexli International Inc. to Make Skin-Care Products Available Free to Cancer Patients, Launches Compassionate Cancer Patient Resources™ Program
Press Release
•
updated: Sep 20, 2017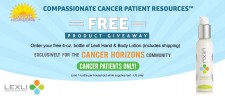 SALT LAKE CITY, September 20, 2017 (Newswire.com) - Cancer Horizons, the premier online portal exclusively for cancer patients, announced today that it has formed an alliance with Lexli International, Inc., noted developer of a leading line of aloe-based skin care products, to provide exclusively to those battling cancer a generous 4-oz. bottle of Lexli's aloe-based Hand & Body Lotion FREE of charge (shipping included), on a first-come, first-served basis, while supplies last. For more information to order this item free of charge, go to www.cancerhorizons.com/free-product-giveway
The placement of Lexli's aloe-based Hand & Body Lotion into the Cancer Horizons distribution channel marks the launch of the Cancer Horizons Compassionate Cancer Patient Resources™ program, which envisions numerous product and service options being made available to cancer patients free of charge. The pioneering and ambitious giveaway program recognizes the considerable impact chemotherapy and radiation treatments have on skin, and Lexli's special-formula topical lotion is designed to provide soothing relief through the naturally anti-inflammatory and analgesic properties of aloe and to promote skin healing on the cellular level.
"Cancer is a dreadful disease that continues to place a tremendous financial burden on families. It is important that cancer patients with unique skin care needs have a soothing and healing product readily available to them before and after treatments," said Steven Hansen, managing partner of Cancer Horizons. "The absence of cost to the patient helps ensure that cancer sufferers will obtain the healing help they need quickly and without having to weigh troublesome economic scenarios."
Speaking about the initiative, Lexli Founder and President, Dr. Ahmed Abdullah stated, "Lexli has long been passionate about addressing the unique skin concerns of cancer patients, both during and after their treatment. We are honored to work with Cancer Horizons to put therapeutic products into the hands of those who need them, at a time they can most benefit from their use." He added, "We recognize and appreciate the many ways in which Cancer Horizons has been a resource to cancer patients and their caregivers and are excited to help launch the Compassionate Cancer Patient Resources™ program."
About Lexli
Founded in 1996 by Dr. Ahmed Abdullah, a board-certified plastic surgeon and noted aloe researcher, Lexli is the premier line of aloe vera skin care products. The company offers a full range of advanced solutions for daily skin maintenance, specific skin concerns and the signs of aging. Lexli products are sold by licensed skin care professionals throughout the United States and in select countries worldwide, as well as online at the Lexli website. For more information, visit https://www.lexli.com.
About Cancer Horizons:
Pendulum International LLC, dba Cancer Horizons, founded in 2016, is rapidly becoming one of the premier sites on the web dedicated exclusively to helping meet the unique needs of cancer patients, their families, and caregivers. The company recognizes that victims of cancer and their families, whose lives and family dynamics are forever altered, remain a geographically dispersed, isolated and underserved demographic and often do not know where to turn for the services and products they need. Cancer Horizons provides information and product choices to lessen the impact of harsh socioeconomic realities faced by millions affected by cancer, and a network of support among those engaged in the fight of their lives. For more information about Cancer Horizons, visit www.CancerHorizons.com
For further information contact:
Steven Hansen, Managing Partner
Cancer Horizons
6925 S. Union Park Center, #550
Midvale, Utah 84047
Phone: 801-501-7500
Email: media@cancerhorizons.com
Source: Cancer Horizons