Canadian Team Releases Self-Charging Water Purifying Bottle
Press Release
•
updated: Nov 28, 2018
Neat Jug is the new system to purify free stream water while hiking or camping. The system is now available for pre-order.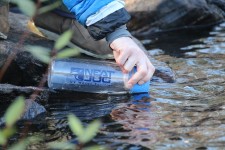 HAMILTON, Ontario, November 28, 2018 (Newswire.com) - Calling all outdoor enthusiasts, weekend warriors, world travelers and nature adventurers: Neat Jug, a revolutionary water purification system, has been officially released on Kickstarter today.
By utilizing a self-charging mechanism and UV technology, each Neat Jug is NSF Class A system-compliant and can effectively produce up to 20,000 liters of clean and safe purified water. Here's how it works: By turning the handle for about 180 seconds, the device will be ready to discharge UVC light for 90 seconds (1 cycle) and purify 750 milliliters of water (about the same amount in a typical bottle of wine).
"Every detail of Neat Jug has been intricately designed with efficiency in mind," says Neat Jug founder David Lee. "We wanted to offer a better way for adventurers to purify water while out in nature – without having to locate a power source or lug around unnecessary equipment."
The backpack-friendly bottle is developed and ready to go to mass manufacturing. However, to bring the product to the market, Neat Jug is seeking funding on Kickstarter.
In addition to being used for hiking, camping, traveling and disaster-prepping, Neat Jug also offers an opportunity to help those in need. The company is collaborating with Aid for Africa and ARDSO to donate water purifying bottles to areas lacking in clean water and power supply.
"We believe that clean drinking water should be a right to all, not a privilege," Lee states. "Neat Jug will help make a difference by providing people with easier access to safe water – while also reducing each enthusiast's carbon footprint. It's an eco-friendly alternative to packing countless bottles of water, all of which aren't biodegradable, and can leave you without water if you hike too far and didn't pack enough to last. We want to eliminate that stress while making a positive impact on the environment."
To learn more about Neat Jug and back the campaign, visit the company's Kickstarter page: http://kck.st/2AuSXHO.
Source: Neat Jug
Related Media
Additional Links