Canadian Start-Up Launches App That Lets Users Skip the Line or Make Money for Standing in One
The newly launched SKIPT app allows users a new way to earn money and save time standing in any lineup in Canada or the U.S.
Press Release
-
updated: Jul 19, 2017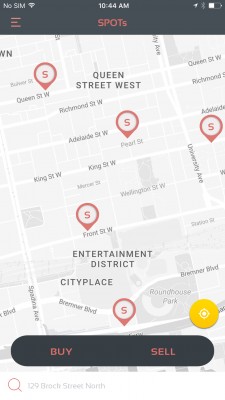 TORONTO, Canada, July 19, 2017 (Newswire.com) - SKIPT announces its launch of the SKIPT app that lets users skip the wait by buying someone else's spot in line, or make money by selling their own spot in line. This app was developed for those who love to be the "first" but don't want to line up. Users can bid on places in line or those who are looking to make money in the on-demand job economy can sell their own spot in line. The app was developed for those who love to be the "first" but don't want to line up. 
SKIPT provides a safe platform to buy and sell spots in line, quickly and easily. "Paying to have someone stand in line for you has been around forever. We're just applying modern technology to it and making it safer," says SKIPT Founder, Isaac Wanzama. "I think it is a really timely twist, especially with the emergence of the task economy."
SKIPT operates on a user's smartphone geo-location and allows them to post a spot for sale in any lineup, anywhere in North America. Sellers let potential buyers know where they are in line, set their minimum price for their spot, and how long they'll be there. Buyers can review available spots in the app and make bids on a spot they're interested in. Sellers review bids and accept the highest bid. Buyers and sellers can instant message within the app making it easy to communicate and meet up. A buyer has 15 minutes to get to the spot and the seller can then complete the payment and trade places. SKIPT charges buyers directly to their credit card and payment for sellers is fast and safe, going directly into their bank accounts.
"We think it's going to be great. We have been working on this for a long time to make sure that we got it right," adds the app Founder. SKIPT is the latest platform in the ecosystem of apps targeting the on-demand job economy that include UBER, AirBnB and more.
SKIPT is free to download in Canada and US App Stores. A version for Android users is being developed along with upgrades to the current version, like an in-app forum for businesses to post upcoming events for the entire SKIPT community to see.
Find out more about SKIPT at www.theskiptapp.com.
# # #
For more information, please contact:
Media
The SKIPT App
iloveSKIPT@theskiptapp.com
416-619-5349
Source: www.theskiptapp.com
Share:
---
Categories: Business Technology, Work, Internet
Tags: jobs, mobileapps, sneakerheads, sneakers, startup, startup economy, tech. technology, uber, uber driver, work, working
---