Canadian Collection Agency MetCredit Enters the U.S. as MetCredit USA
National Debt Collector Crosses Border after 46 Years of Collecting for Major Banks, Telecoms and Industrials
Press Release
-
updated: Oct 8, 2019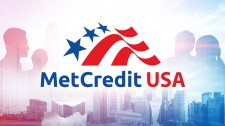 EDMONTON, Alberta, October 8, 2019 (Newswire.com) - A Canadian financial services powerhouse is expanding southward.
Following 46 years of leadership as a national collection agency serving telecommunications giants, major banks, manufacturers and service industry leaders Canada-wide, MetCredit (metcredit.com) has acquired a controlling interest in Credit Bureau of Jamestown (CBJ) which it will operate as MetCredit USA and a launchpad into the U.S. market.
"It's a move we've been carefully planning for years," says MetCredit President and CEO Brian Summerfelt. "We have been very successful at building the MetCredit brand in Canada into a dominant, highly respected position, and observers have long been asking when we'd enter the U.S. Well, the time is now."
Established in 1974 and with offices in Vancouver, Edmonton, Toronto and Montreal, MetCredit has built a solid footprint serving commercial and consumer accounts in all Canadian provinces. The company has partnered with U.S. collection agencies for decades, recovering debt from businesses and consumers in Canada who owe money to American organizations. As a result, Mr. Summerfelt and his regional teams are well-versed at U.S. federal and state debt collection regulations.
Credit Bureau of Jamestown is one such business relationship — and a longtime MetCredit collaborator. Founded over 80 years ago by Gerald Shelters, CBJ ranks among America's longest-operating debt collection agencies. Mr. Shelters sold the business to his son-in-law William Hartweg in 1965, and in 1995, William's sons Andrew and Matthew took ownership. Andrew and Matthew Hartweg will remain in their respective leadership roles of Executive Vice President and Vice President, while MetCredit's President and CEO Brian Summerfelt will carry his title to the new MetCredit USA.
"The family nature of the business is very meaningful to MetCredit," says Mr. Summerfelt. "Our company's founder Frank Reilly brought his son into the business, and Jason Reilly is a MetCredit VP today. If you listen to the team members in our videos, the word 'family' comes up repeatedly, because that's how we strive to treat our colleagues. It's invigorating to watch our diverse MetCredit family grow, now crossing international borders. It feels right."
CBJ has been a dominant player in U.S. healthcare collections, a landscape that has become increasingly complex in the era of big data and unprecedented privacy concerns. MetCredit's innovative technology and security protocols will enable the U.S. company to gain a larger piece of the marketplace, while the connections and expertise of CBJ will spearhead MetCredit's U.S. expansion.
Andrew Hartweg emphasizes that although multiple synergies made for a good fit, it was not the only thing he and Matthew required in making such a major transition. "Healthcare receivables have been our specialty, serving clients throughout Western New York and Western Pennsylvania," he says. "We have been successful for three generations by building a respected reputation and quality service based on professional conduct, personal integrity, leading technology and ongoing employee training. We place great value not only on our relationships with our clients, but on the relationships our clients have with their patients. MetCredit's focus on assistive debt collection, its deep healthcare expertise, and longstanding track record of successful client rehabilitation are all vital elements, but it was the trust we built with Brian Summerfelt that cemented this deal."
​​MetCredit USA and its Canadian counterpart MetCredit (metcredit.com) will operate as separate companies, sharing knowledge and partnering on cross-border engagements.
For more information, please contact media@graphos.ca or @metcredit
Source: MetCredit
Share:
---
Categories: Finance
Tags: collection agencies, cross-border expansion, financial services, m&a, mergers and acquisitions
---