Can Haiti Become the Next Federal Republic of the Americas? That is the Goal of the American Republican Network Inc.
Press Release
•
updated: Apr 11, 2017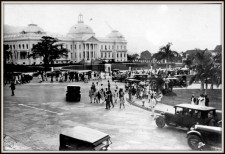 Miami, Fl , April 11, 2017 (Newswire.com) - Billions of dollars and many thousands of man-hours of some of the best minds have been expended on the problems in Haiti by the Members of United Nations. Thirteen years later, it is yet to be determined why Haiti cannot put an election together, or even why about 9,800 elected officials are required for a country as economically underdeveloped as Haiti. Laws still on the books that were enacted as far back as 1978 to support a then crumbling dictatorship made it impossible for the 44th, 45th, 46th , 47th, 48th, 49th, and 50th Parliaments to avoid gridlock, or even to complete their constitutionally stipulated terms. The Present and Future Haitian Legislative, Judicial and Executive Branches will have the same problems, until the conflict between these outdated laws and Haiti's current/revised Constitution is resolved as proposed on the June 22, 2004 by the Organization of American States.
It cannot be disputed that Haiti currently has a major problem of decentralization. But, it is also evident that lack of UN understanding, OAS participation, civic education, Haiti would have already made greater progress toward the 2004 proposed "OAS' Proximity and Decentralized-democracy. Development of Haiti's fledgling Municipal, Provincial and Regional-democracy now requires an agreement among all parties involved to establish new parameters and eliminate any conflict between the way "Financial or Administrative Assistance is conducted in Haiti".
With Haiti as the Western Hemisphere Prototype, a proposed International Committee made of OAS, Caricom, IADB, BWHA and the Armed Forces of Haiti can take charge of the $5.3billion dollars and 2.5 million Jobs from the Reconstruction's Master Plan for the New Republic of Haiti. For additional information about Haiti's Sustainable Development Goals visit portrepublican.com
SPECIAL NOTE:
OAS: Is the Organization of American States
CARICOM: Caribbean Community
IADB: Inter-American Development Bank
BWHA: Bureau of Western Hemisphere Affairs
Media Contact: ​
​Garry Philippe
754.248.5965
info@portrepublican.com
Source: American Republican Network Inc.