Can Experiences Save Retail?
Press Release
•
updated: Mar 5, 2020
Large chain stores are starting to close throughout the U.S., but can experimental retail save this growing trend? And how difficult is it to get these inventive stores approved by the city?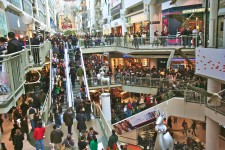 LOS ANGELES, March 5, 2020 (Newswire.com) - ​​​With the boom of online shopping, more and more people are finding it tedious having to shop in person. Many find it easier to simply click a button and have their purchase come directly to the door. Unfortunately, this means that fewer people are supporting the in-person stores that fuel our economy. With the surge of retail shutdowns (most notably Sears), it can be easy to write off the in-store experience. However, the U.S. Census data proves that "90% of consumers still shop in traditional stores." Customers want to go to the store; they just need to find the motivation to do so. But how can we influence people to drive to the store? Permit Advisors suggests that a possible solution is to make shopping an ​experience​. Experimental retail sparks interest and creates a word-of-mouth buzz that drives organic traffic.
New York is a pioneer for experimental retail as retail stores invest millions to attract tourists to their stores. Neiman Marcus in Hudson Yards offers beauty treatments and spa services that include an LED LightStim light therapy bed. B8ta offers hands-on testing of the latest technology, allowing customers to play with their gadgets for an unlimited amount of time. Other cities have begun to adopt this strategy as well. Gucci has just opened an Osteria inside their Beverly Hills location, a project that Permit Advisors permitted. Brands are beginning to realize that they need to stand apart from their competitors in dramatic ways to draw in traffic to their brick and mortar stores. If it was just left to selling products, online shopping would win every single time. So, now they must get creative.
A large concern with experimental retail, however, is that when a construction design becomes more complicated, the difficulty of getting a design approved by the city increases. Depending on the jurisdiction, it is easy to get a simple retail store ground up approved, but when you add in that this retail store is also a movie theater, café, and art gallery; the review process becomes much more in-depth and time-consuming. Roy Hasson, President and founder of Permit Advisors, says, "We've seen a large trend in experimental retail in the past couple of years. On these types of projects, issues that arise with the city usually concern use, occupancy, and fire separations. But they're interesting challenges that we love solving; we hope to see the trend grow in the upcoming years." Dealing with stressful permitting processes can be time-consuming; in these situations, it is best to delegate to a professional to expedite the process for you.
In a world of constant technological upgrades and changing landscapes, consistent reinvention in business is key. You must stay relevant to customers and keep them engaged to survive. But at the end of the day, business is all about the people they serve. Keep their interests in mind and you can never go wrong.
Permit Advisors Inc. is a nationwide permit expediting, entitlement, and consulting firm based out of Beverly Hills, CA. We have established relationships with municipalities and implement cost-saving strategies to efficiently complete projects. We provide a dedicated project management team to ensure every aspect of the project is given attention while maintaining open communication between the jurisdiction, consultants, and our clients.
Media Contact:
Bridget Foley
Phone: 310.275.7774
Email: bridget@permitadvisors.com
Source: Permit Advisors, Inc.