Campaign to Teach Kids How to Spot Fake News
Creative director and global search engine CEO launch campaign to teach the next generation how to spot fake news and clickbait.
Press Release
-
updated: Nov 30, 2017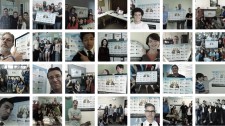 AUSTIN, Texas, November 30, 2017 (Newswire.com) - An Australian creative director and a U.S. global search engine CEO are using Kickstarter to fund a new international campaign aimed at teaching kids how to spot fake news, manipulation and clickbait.
School of Thought founder Jesse Richardson and advisory board member Gabriel Weinberg want to provide free critical thinking resources to schools around the globe to help the next generation question advertising, politicians, and disreputable news sources.
"Our brave new digital world provides endless torrents of information. Being able to tell the difference between actual journalism versus agenda-driven fake news in this environment is becoming ever-more important," according to Jesse Richardson, who has spent 20 years as an advertising industry creative director.
"We also spend billions of dollars a year coming up with clever ways to sell people things they probably don't need – surely we could be devoting some of those resources to teaching kids how to think independently and critically."
The School of Thought wants to raise USD$71,500 (AUD$93,939) by Dec. 13, 2017 through Kickstarter to create a series of online videos on identifying logical fallacies, the first of which can be viewed via https://www.kickstarter.com/projects/schoolofthought/critical-thinking-vs-a-post-truth-world.
Richardson founded his nonprofit School Of Thought organization with the aim of teaching kids how to think, rather than what to think.
"We want to create highly engaging resources that teachers, students and the general public can use for free under creative common licenses," he said.
"You can't beat viral; you have to join it. By creating shareable content that promotes rationality, we'll help to empower the next generation to think independently and know bull manure when they see it."
Richardson and the School of Thought found international acclaim with critical thinking websites www.yourlogicalfallacyis.com and www.yourbias.is, which have had more than 8 million visitors and been tweeted by luminaries such as Stephen Fry, Jimmy Wales and thousands more.
CEO of global search engine company DuckDuckGo Gabriel Weinberg sees the democratization of information online as an overwhelmingly good force.
"But it has a dark side in that it allows echo chambers of extremism, where people are exposed to information that reinforces their prejudices," said Weinberg, a U.S.-based School of Thought advisory board member.
"We need to do something to tip the scales back in favor of reason and rationality."
Ultimately, the School of Thought is looking to raise USD$2.4 million to create a comprehensive online modular learning platform, including a 'Logical Fallacy Bingo' app, an interactive timeline of philosophy and a web series on cognitive biases.
MEDIA CONTACT:
School of Thought Founder Jesse Richardson
+61 405 751 144   
​jesse@schoolofthought.org
Source: The School of Thought
---
Categories: Internet and Streaming Media, Marketing, Advertising and Public Relations, Business, Education, News
Tags: critical thinking, education, fake news
---
Related Files
Additional Links