Campaign Seeks to Save the Girl Child in India
Press Release
•
updated: Jan 30, 2018
Youth for Human Rights India chapter supports the initiative to end the selective aborting of female fetuses and killing of newborn baby girls.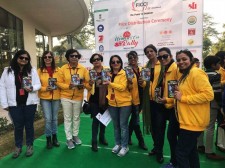 UTTARAKHAND, India, January 30, 2018 (Newswire.com) - India's Save The Girl Child campaign seeks to end the barbaric practice of femicide in India. According to The New York Times, over the past several decades, 300,000 to 700,000 female fetuses have been selectively aborted in India each year. In support of the initiative to end this widespread abuse, Youth For Human Rights India sponsored a car in the Women's Car Rally in support of the "Save the Girl Child" Campaign sponsored by the city of Uttarakhand in Northern India and the Federation of Indian Chambers of Commerce and Industry (FICCI) Ladies Organisation.
Youth for Human Rights is an initiative to raise awareness of the Universal Declaration of Human Rights (UDHR) by educating people of all ages on the 30 rights enshrined in the documents. Article 3 of the UDHR is the Right to Life.
Traditionally, Indian culture prefers sons over daughters. Male children are seen as assets, future breadwinners who can care for their parents in their old age. Female children are considered liabilities, not only because they are less likely to fulfill breadwinning and care needs, but because they will require parents to supply a dowry when they marry.
The result today is that India has the worst child sex ratio in South Asia. The use of ultrasound to detect the sex of the fetus has played a key part in this practice.
"We cannot be counted as citizens of the 21st century," said Indian Prime Minister Narendra Modi, who launched a campaign in 2010 to end such practices. The campaign includes a government ruling that bans sex detection in ultrasound clinics and incentives to families for raising and educating their daughters.
However, the ratio of female to male babies born in India continues to decline. The gender situation is so dire in some states that, according to government estimates, no girls have been born for many years in 70 villages. In 2015, Women and Child Development Minister Maneka Gandhi stated that there are villages with only 500 girls to every 1,000 boys.
Female feticide occurs across economic classes in both urban and rural areas. A 2014 UN study warned that the dwindling number of girls in India had reached "emergency proportions," and that it is fueling an increase in crime such as kidnapping and trafficking of women.
The Save the Girl Child campaign seeks to enact free and compulsory education, a Dowry Prohibition Act that would grant equal property rights to females, and the establishing of a commission for women on central and state levels. Save the Girl Child is an initiative of the Organization for Eradication of Illiteracy and Poverty.
The Church of Scientology and Scientologists support United for Human Rights, and its program for young people, Youth for Human Rights, the world's largest nongovernmental human rights education campaign, reaching out in 195 countries in 27 languages and embraced by 2,300 activists, officials, groups and organizations. The initiative is inspired by humanitarian and Scientology Founder L. Ron Hubbard's conviction that "It is vital that all thinking men urge upon their governments sweeping reforms in the field of human rights."
For more information, visit the Scientology website.
Source: ScientologyNews.org
Related Media