Caltech Leads the Charge for Automated Sports Technology With Keemotion
Press Release
•
updated: Mar 5, 2019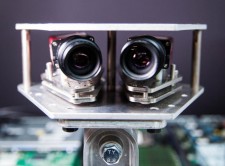 NEW YORK, March 5, 2019 (Newswire.com) - The California Institute of Technology (Caltech) has become the first NCAA Division III institution to reach a partnership with Keemotion. Through this partnership, Caltech will be adopting Keemotion's automated production technology to enhance the university's live streaming and coaching technology.
Keemotion's automated production technology is allowing Caltech to produce basketball and volleyball events without the need for a camera operator and giving them the ability to live stream to any platform. Through automation, the university has been able to improve the quality of their live streaming efforts and increase its staff efficiency.
"Our fans are impressed with the technology and enjoy the high-quality stream," said Caltech's Head Coach Dr. Oliver Eslinger.
Going beyond the impact of live streaming are the coaching applications of Keemotion. Through on-court film review and live breakdown capabilities, Caltech is increasing its staff engagement and player development through film.
"Keemotion is an invaluable resource for our program. Knowing that we have so much footage available allows us to become even more efficient with our time and practice planning," said Coach Eslinger. "We are more prepared for training and games than we've been in the past. With the ability to look at every possession, we can get down to the roots of what we're doing and what we can do better."
"This is a huge step for Keemotion, Caltech and automation in sports," said Keemotion VP of Sales and Marketing Colin Cunningham. "It is exciting to see schools across all levels of intercollegiate athletics recognize the power of this technology and bring it to their program. By adopting our automated production technology, Caltech will be able to utilize a powerful broadcast and coaching tool. They have streamlined their production efforts and will be able to deliver a quality broadcast to their fans and enable their coaches to continue to grow and develop their teams. We look forward to a successful partnership for years to come."
Keemotion is the leader in automated sports production technology, working with professional and collegiate organizations in 11 countries, including the NBA, NHL and NCAA. Keemotion delivers proprietary motion-detecting algorithms that allow for capture and breakdown of all footage.
Source: Keemotion
Related Media