California Reforms Felony Murder Rule in 160-Year-Old Historic Victory
California Senate Bill 1437 sponsored by Re:store Justice was signed into law by Governor Jerry Brown earlier today, marking a pivotal moment for justice reform and communities across the United States.
Press Release
-
updated: Oct 1, 2018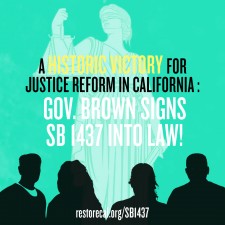 SACRAMENTO, Calif., October 1, 2018 (Newswire.com) - The bipartisan bill sponsored by Re:store Justice, co-authored by Senators Nancy Skinner (D) and Joel Anderson (R), will now amend California's felony murder rule, a centuries-old legal doctrine that has held people automatically liable for first-degree murder if a death occurs during the commission of certain felonies, such as a robbery, even if an individual did not intend for a killing to occur or aid the killing in any way. A 2018 survey of California prisons concluded that the felony murder rule, prior to SB 1437, disproportionately impacted youth of color and women. 
The passage of SB 1437 ends the practice of sentencing a person who did not commit a homicide, or even have knowledge that a homicide occurred, similarly to someone who committed the homicide. Additionally, law enforcement will now have a powerful tool in their toolbox to help identify who was directly responsible for a murder. In a co-defendant felony murder case, co-defendants who were not the actual killers, who did not aid and abet the killing, or who did not act with reckless indifference to human life will now have an incentive to talk and tell the truth about what happened. SB 1437 creates more proportional and equitable sentencing in California while serving public safety by holding those harm accountable for their actions.
"This bill has been all-consuming for me for many years, inspired by the people we know who have been in prison for decades for a murder they did not commit nor intend to occur," said Alex Mallick, executive director and co-founder, Re:store Justice.
"This is, in essence, a women's bill. Many, many women are serving life sentences for a murder perpetrated by their abuser. These women were navigating survival skills and did not kill nor intend to kill anyone," said Kate Chatfield, policy director and co-founder Re:store Justice.
"The felony murder rule has allowed for vastly different sentences for people who have committed the same crime. This flaw in our criminal justice system has sent far too many people – particularly our youth – to prison with life sentences based on the actions of another, for crimes they did not commit nor intend to occur. Finally, these individuals will get the justice they have long deserved," said Sara Sindija, deputy director and co-founder Re:store Justice.
Re:store Justice works in partnership with incarcerated people, survivors of crime, district attorneys, and the community. Our mission is to re-imagine and reform our criminal justice system to be one of true inclusion and justice.
For more information on our work, please visit restorecal.org.
For more information regarding this, please contact Julie Mai at julie@restorecal.org or (714) 316-8012.
Source: Re:store Justice
Share:
---
Categories: Public Safety
Tags: california criminal justice reform, felony murder rule, SB1437, sentencing reform
---