California Fires: Scientology Disaster Response on the Ground to Help
Press Release
•
updated: Aug 6, 2018
Helping evacuees and first responders cope with some of the deadliest conflagrations in California history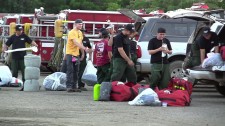 REDDING, Calif., August 6, 2018 (Newswire.com) - Scientologists are providing relief to those affected by three Northern California wildfires, collecting donations and goods and distributing water, food and supplies.
The Volunteer Ministers (VMs) are concentrating their efforts at three disaster sites:
The Carr Fire: This is the sixth-most destructive wildfire in California history. Located in Redding, the fire has grown to 145,000 acres, destroyed 1,500 buildings and killed seven. Some 38,000 have been evacuated. As of Monday, Aug. 6, the fire is 43 percent contained. A record-setting heat wave combined with drought and intense winds is blamed for the extent of the destruction. Added to that, the fire's extreme heat produced towering pyrocumulus clouds that generate lightning and winds that blow in random directions, making the fire even more volatile and harder to predict or control.
The Mendocino Complex Fires: Two fires have burned through 273,000 acres and are 38 percent contained. With a shortage of shelters, Volunteer Ministers are collecting tents and sleeping bags for the victims of this fire.
The Ferguson Fire: Located in Yosemite National Forrest, this fire has grown to 91,000 acres and is 38 percent contained.
As members of California VOAD (Voluntary Organizations Active in Disaster), Scientology Volunteer Ministers are working with other churches and nonprofits including the Bethel Church in Redding which is serving as the Salvation Army distribution center.
Through the work of the Volunteer Minister Coordinator of the Church of Scientology Sacramento, the VMs are now part of the Emotional Spiritual Care Group serving at the Carr Fire and are training other chaplain staff on the use of Scientology assists — techniques developed by Scientology founder L. Ron Hubbard that relieve the stress and trauma that those affected by disasters often suffer.
Another team is working at the Anderson Fairgrounds in Shasta, which is serving as the firefighters' operations center. They are providing food and water and assists to the firefighters as they return from their shifts on the fire lines.
Volunteer Ministers headquarters has put out a call for Volunteer Ministers from throughout California and the rest of the Western U.S. to join the disaster response team. Scientology churches and missions in the Bay Area, Sacramento and Los Angeles are collecting goods and supplies to help those affected by the fires.
To volunteer, contact the Volunteer Ministers Coordinator at (800) 435-7498 or (323) 960-1949.
For more information, visit the Scientology Newsroom or the Volunteer Ministers website.
Source: Scientologynews.org
Related Media