Calcium Lactate: Asia Pacific Increasing Global Dominance, Infoholic Research Reports
Press Release
-
updated: Apr 19, 2017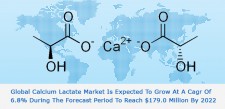 Bangalore, India, April 19, 2017 (Newswire.com) - With its recently published study "Worldwide Calcium Lactate Market: Drivers, Opportunities, Trends & Forecasts Up to 2022", Infoholic forecasts that the global market for calcium lactate will continue to increase, owing to the increased exposure of wide application areas in the underdeveloped and developing countries. Because of its properties, calcium lactate is used as emulsifier, moisturizer and stabilizer in various application areas such as feed additives, food & beverage, cosmetics. Increased use of calcium lactate in feed additives, due to its relatively lower price as compared to most of the eco-friendly alternatives, will expand its market in the underdeveloped and developing countries. This pattern is expected to continue during the forecast period 2016–2022 to increase calcium lactate market, growing at a CAGR of 6.8%.
Food & beverage is contributing the most toward the calcium lactate market and is the largest segment in demand. This trend is expected to continue during the forecast period as well. The feed additives segment is expected to grow with the second-highest growth rate, at CAGR of 7.4% during the forecast period 2016–2022, following the food & beverage segment.
Request a sample of the report 
@ https://www.infoholicresearch.com/request-a-sample-report/?repid=4621
Several alternatives such as calcium chloride, sodium lactate, potassium lactate among others are present, which have led to decrease in demand for calcium lactate. However, calcium chloride's usage is decreasing due to the presence of chlorine, which is carcinogenic. Sodium lactate and potassium lactate, being more effective than calcium lactate, have a disadvantage of premium cost, due to which usage is restricted mainly in developed countries.
"Calcium lactate is a non-toxic, non-hazardous and eco-friendly compound made from lactic acid with calcium carbonate. With high calcium content and easy absorption in the body, it is used in many food & beverage and feed additives as supplement. Calcium lactate being cheap, compared to other alternate substitutes, is favoured in many geographies. Asia Pacific dominates the calcium lactate market as it is the hub of most manufacturing units. This trend is expected to continue for the next 5-7 years, resulting in most of global calcium lactate being sourced from Asian Manufacturers " – Ankur Kalra, Research Manager, Chemicals and Materials.
Buy a complete report on Calcium Lactate Market – Drivers, Opportunities, Trends & Forecasts Up To 2022
@ https://www.infoholicresearch.com/report/calcium-lactate-market-drivers-opportunities-trends-forecasts-up-to-2022/
Key insights of the report
Global calcium lactate market has been analyzed based on application areas

Food & Beverage

Cosmetics

Feed Additives

Pharmaceuticals

Others (such as industrial)

Global calcium lactate market has been analyzed based on geography

Asia Pacific

North America

Europe

Rest of the World

Industry outlook: market trends and drivers, restraints, and opportunities
Source: Infoholic Research
Share:
---
Categories: Chemicals, Food and Beverage Manufacturing, Pharmaceuticals and Biotech, Medicinal Foods
Tags: calcium lactate, calcium lactate market, calcium lactate market trends, global calcium lactate market analysis, global calcium lactate market research report, global calcium lactate market trends
---