Caktus Group Celebrates 10 Years of Building Sharp Web Apps
Press Release
•
updated: Sep 28, 2017
Web development consultancy has built award-winning apps for business and social good in Durham, North Carolina since 2007.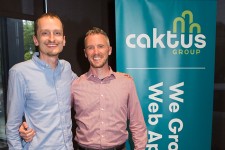 DURHAM, N.C., September 28, 2017 (Newswire.com) - The team at Caktus Group celebrates the company's 10th anniversary this year. Known for developing user-focused web and SMS apps in Django and Python, Caktus has expanded from a startup of four to an established and growing company of 34. Over the last ten years, Caktus has been honored to receive awards for Creative Excellence on the Web from W3 and Communicator Awards for the company's work on website development. Co-founder and CTO Colin Copeland also received the Triangle Business Journal's 2015 40 Under 40 award for his work with Code for Durham, a local chapter of Code for America.
"At Caktus we believe in the benefits of technology for public health and social good. We are delighted to have had opportunities to develop apps addressing needs in those areas over the last ten years, both in our client work and in community-driven efforts through organizations like Code for Durham. We look forward to doing more to contribute in these areas in the future," remarked Colin.
CEO Tobias McNulty added, "We're proud of being leaders in tech in general and Django development in particular, but technical excellence is just the beginning. It's the company culture, which includes initiatives to promote transparency, fair pay, and diverse representation that we feel will drive Caktus' future growth. Our commitment to these principles is what makes me most proud to come into work each day."
The company will continue to grow with the model that led to its current success: nurturing strong internal and external connections, developing the client's most valuable features first, building scalable apps, and investing in a sharp team. Caktus is pleased to be a member of the Durham community and has ongoing efforts to support local tech meetups and the Triangle at large.
About Caktus Group
Caktus is a leading web development firm in the U.S., building custom web and mobile tools with Django for businesses and social good. Major projects include the development of Libya's SMS voter registration system, the first of its kind in the world, and supporting education reform with the University of Chicago's CCSR survey. Past and current clients include the University of North Carolina, UNICEF, the Specialty Food Association, Mozilla, iN DEMAND, and Discovery Communications.
Press Contact:
Whitney Hill
Tel: (919) 951 0052
marketing@caktusgroup.com
Source: Caktus Group