Cable Matters Unveils USB-C (R) KVM Switch Dock for Two Devices
Press Release
•
Sep 5, 2023
The innovative product combines the performance of a USB-C dock and the flexibility of a USB-C switch into one space-saving and productivity-enhancing connectivity solution.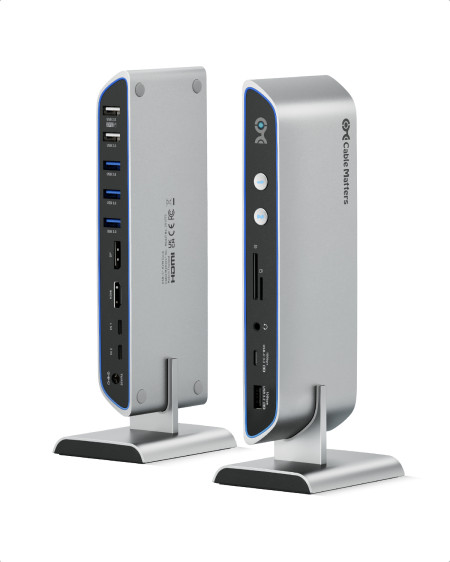 SOUTHBOROUGH, Mass., September 5, 2023 (Newswire.com) - Cable Matters®, an industry-leading connectivity solutions supplier, today unveiled a unique USB-C® Keyboard, Video, Mouse (KVM) switch dock for two computers.
The Cable Matters USB-C KVM Switch Dock lets two devices share a single keyboard and mouse, charger, peripherals, and two ultra high-definition displays over a single USB-C connection. It combines the performance of a USB-C dock, which offers a one-cable connectivity solution, with the flexibility of a USB-C switch, which shares peripherals between multiple devices.
The KVM Switch Dock will revolutionize the work-from-home experience, which is plagued by two common connectivity challenges. Many business-class laptops lack essential display or peripheral ports. Remote workers sharing a workspace with their business and personal devices struggle for space or constantly hot-swap work and personal laptops between shared USB peripherals and monitors.
Cable Matters' KVM Switch Dock solves both of these problems. The dock instantly adds ultra high definition DisplayPort™ and HDMI video ports, a 3.5mm audio port, six USB-A ports, one USB-C port, and SD/MicroSD card slots to up to two USB-C devices. All connected peripherals and displays can be switched between the two connected host devices with the press of a button on the dock or the included wireless remote, eliminating the need for hot swapping or an extra switch.
"The vision of this product grew from the needs of today's remote workforce," said Cable Matters President and CEO Jeff Jiang. "People are doing more than ever with multiple devices and require connectivity solutions that provide performance and flexibility at an affordable price."
With the latest in display and connectivity technology, the USB-C KVM Switch Dock offers unmatched performance over a single USB-C cable. It features a single 8K@30Hz or 4K@144Hz display, or dual 4K@60Hz displays. Dual USB-C Power Delivery charging supports 100W charging of one device or 65W charging of both devices simultaneously. The front panel USB-C and USB-A ports support 10Gbps data transfer and device charging.
Cable Matters, with headquarters in Southborough, Massachusetts, offers a complete line of cables, adapters, docking stations and networking products for the home, office, and data center. Cable Matters offers first-class quality products, backed by exceptional customer service, at an affordable price.
Cable Matters® is a registered trademark of Cable Matters Inc. All other trademarks are the property of their respective owners.
USB4®, USB Type-C® and USB-C® are trademarks of USB Implementers Forum. The terms HDMI, HDMI High-Definition Multimedia Interface, Ultra High Speed HDMI, Ultra High Speed HDMI Cable Certification Program, and the HDMI Logo are trademarks or registered trademarks of HDMI Licensing Administrator, Inc. DisplayPort™ and the DisplayPort™ logo are trademarks owned by the Video Electronics Standards Association (VESA®) in the United States and other countries.
Source: Cable Matters Inc.