Cable Matters Unveils Foldable USB-C Hub With 4K HDMI Video Support
Press Release
•
May 2, 2023
The USB-C hub features 4K 60Hz Video, 100W Power Delivery charging, and 3x USB ports in an ultra-slim design.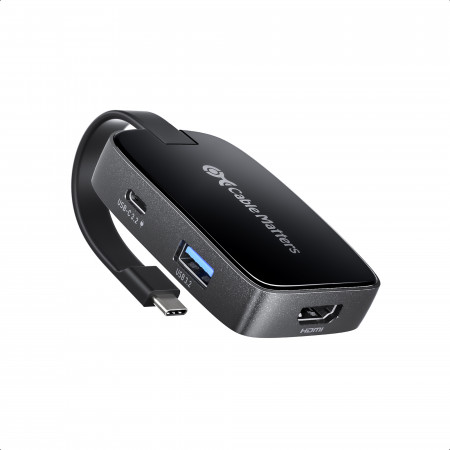 SOUTHBOROUGH, Mass., May 2, 2023 (Newswire.com) - Cable Matters®, an industry-leading supplier of reliable connectivity products, added an ultra-high-performance 4K USB-C® hub to its line of Foldable, Portable, Affordable USB-C adapters and hubs.
The Cable Matters Foldable USB-C Multiport Adapter with HDMI® & USB Power Delivery (PD) converts a single USB-C port into a multimedia powerhouse, all in a small and ultra-portable form factor. The USB-C hub is built from the ground up to support the hybrid or remote worker in need of a full workstation on the road or in a home office.
The hub features an HDMI port supporting up to a 4K 60Hz resolution and refresh rate, offering unparalleled video performance in an ultra-small adapter. The hub also features a 10Gbps USB-C port with 100W Power Delivery pass-through charging, a 10Gbps USB-A port, and a USB 2.0 port for connecting peripherals.
Unlike many hubs on the market that include intrusive cable pigtails, the Foldable USB-C Multiport Adapter features an ultra-slim and foldable pigtail adapter for connecting to the host computer. This innovative solution allows the hub's pigtail cable to neatly fold up into the hub with no risk of cable tangles or unsightly wires.
"The Foldable USB-C Multiport Adapter is the perfect solution for the remote worker," said Cable Matters President and CEO Jeff Jiang. "Turn your work laptop into a full-featured desktop, then neatly pack the adapter away in your laptop bag after work. That is the benefit of the Foldable, Portable, Affordable design."
The hub leverages cutting-edge innovations in the USB-C connectivity market, which has Parade Technologies Inc.'s latest single-chip PS188 USB-C solution with PD, HDMI2.0 and USB3.2 10G Hub integration.
"Parade Technologies' highly integrated single-chip USB-C solution lets companies like Cable Matters offer small, compact, and feature-filled USB-C connectivity products," said Parade Technologies Inc. Executive Vice President of Marketing Jimmy Chiu. "We are proud to work with Cable Matters to bring this innovative USB-C solution to market."
The hub is one of several USB-C connectivity products in Cable Matters' Foldable, Portable, Affordable product line, which also includes:
All Cable Matters Foldable USB-C adapters and hubs are available on CableMatters.com.
About Cable Matters
Cable Matters, with headquarters in Southborough, Massachusetts, offers a complete line of cables, adapters, docking stations and networking products for the home, office, and data center. Cable Matters offers first-class quality products, backed by exceptional customer service, at an affordable price. Established in 2009, Cable Matters serves markets in the U.S., Canada, Mexico, the UK, France, Germany, Spain, Italy, the Netherlands, Sweden, Poland, Australia, and Japan.
Cable Matters® is a registered trademark of Cable Matters Inc. USB4®, USB Type-C® and USB-C® are trademarks of USB Implementers Forum. The terms HDMI, HDMI High-Definition Multimedia Interface, and the HDMI logo are trademarks or registered trademarks of HDMI Licensing Administrator, Inc. DisplayPort™ and the DisplayPort™ logo are trademarks owned by the Video Electronics Standards Association (VESA®) in the United States and other countries. All other trademarks are the property of their respective owners.
Source: Cable Matters Inc.