C. E. Hutton Announces Strategic Investment in Blockchain Technology Platform
C. E. Hutton, a Colorado-based limited liability company, today announced its strategic investment in Blockhash Group, a blockchain technology management platform.
Press Release
-
updated: May 30, 2018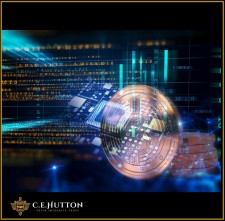 DENVER, May 30, 2018 (Newswire.com) - Given the recent, yet rapid, development of blockchain technology and the crypto-currency market, new and unique opportunities have been steadily blooming in the investment space. The economy of old is witnessing a complete change in form, where new values are generated in the digital world and a vital role in each of these processes is executed by decentralized technologies, in which digital tokens and cryptocurrencies play an essential role.
"Put simply, our mission is to act as the professional catalyst for the boundless acceptance and innovation of blockchain technology," said Hugo D. Aviles, Managing Director of Blockhash Capital.
"By being solely focused on investing in blockchain-related technology, the Blockhash Group will be well-versed in traditional finance and budding blockchain technology."
While there are countless new and profitable investments following the blockchain movement, most private investors and a large segment of professionals do not completely understand the various cryptocurrency markets or find it difficult to distinguish between the massive variety of items for investment. For these people, it is critically important that they do not miss obvious opportunities to obtain additional income simply because they lack a handy and safe tool. In turn, crypto market professionals (i.e. traders and portfolio managers) are not sufficiently open and available to investors at large. This is why Blockhash Capital was launched.
Blockhash Capital has assembled an impressive network of those dedicated to monitoring and utilizing the rapidly growing sector of blockchain tech. This network includes advisors, entrepreneurs, and strategic partners, each of whom is committed to the idea of seeing this technology realized to its true potential. The firm is steadfast in the belief that blockchain technology is a profound and market-changing invention that offers cheaper and more effective means of moving money and exchanging assets without the risk of tampering or financial malice.
For media or press inquiries, please contact media relations liaison Dana Blickensderfer at dana@cehutton.com
About C. E. Hutton LLC
Founded in June 2017, C. E. Hutton is a Colorado-based limited liability company that offers a variety of business development and management support services, along with capital raise support, financial and investment services to entrepreneurs and small to mid-size ancillary companies within the legal cannabis and hemp industries.
For more information, go to www.cehutton.com
Source: C.E. Hutton
---
Categories: Business Technology
Tags: BLOCKCHAIN-TECHNOLOGY, BLOCKHASH-CAPITAL, BUSINESS-DEVELOPMENT, CANNABIS-INDUSTRY, CE-HUTTON, CRYPTO-CURRENCY-MARKET, ENTREPRENEURS, FINANCIAL-SERVICES, PRIVATE-INVESTORS
---