Busy Bee Tools Expands Head Office Distribution Center
Press Release
•
Jan 17, 2022
More space required for National Tool Retailer after unprecedented growth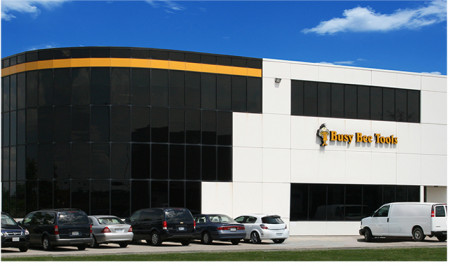 VAUGHAN, Ontario, January 17, 2022 (Newswire.com) - Busy Bee Tools today announced the expansion of their National Distribution Center, located in the GTA. The expansion marks a significant milestone for Busy Bee Tools, a 46-year-old National Tool retailer with 10 stores across Canada, as it keeps pace with unprecedented growth over the past few years.
"We've seen high double-digit growth in back-to-back years, and we're simply running out of space," says Hanif Balolia, President at Busy Bee Tools. "In just under a year, we introduced over 1,200 new machines & tools to our offering and expanded our e-commerce division for both small parcel and large freight orders. We're adding an additional 20,000 sq/ft so we can grow without space concerns."
This news comes in the wake of many recent initiatives and accomplishments of the company, including:
Significant increases in same store sales across all brick & mortar stores
Large increases in the number of e-commerce orders
Introduction of many prominent woodworking machinery brands such as Saw Stop, Laguna, Next Wave CNC, Supermax and more
Not a single employee layoff/furlough in the past 18 months amid government-mandated store closures & forced curbside due to covid-19
"The additional space will allow us to continue with expansion plans, which include more retail locations and a more aggressive approach to online sales," said Balolia.
Busy Bee Tools sister company, AgeComfort.com, also operates out of the same Distribution center and the extra space will help alleviate logistical concerns that have been a problem between the two companies. Started by Hanif Balolia back in 2009, AgeComfort.com has grown into a multimillion-dollar e-commerce retailer of home healthcare products.
"Running both companies simultaneously in the same space has been particularly challenging. Our staff is really looking forward to the extra room to mitigate growth concerns. We can now focus our efforts on growth rather than worrying about not having enough room to operate efficiently," said Balolia.
To learn more about Busy Bee Tools, visit www.busybeetools.com.
To learn more about its sister company AgeComfort.com, visit www.agecomfort.com.
Busy Bee Tools: Established in 1976, Busy Bee Tools is a Canadian retailer of woodworking & metalworking tools. The company operates brick & mortar stores in Ontario, British Columbia, Alberta & Nova Scotia and offers free shipping for online orders over $100
Source: Busy Bee Tools