Business Leader to Launch Professional Development Firm
Press Release
•
updated: Jun 25, 2020
Jett Speaks helps African Americans and women succeed professionally and financially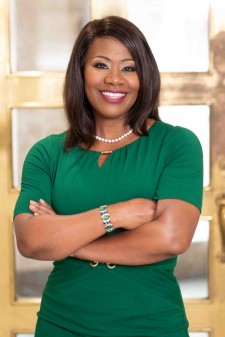 ATLANTA, June 25, 2020 (Newswire.com) - ​​Today we announce the launch of Jett Speaks, LLC (www.jettspeaks.com), a professional development, financial literacy and diversity consulting firm founded by business leader Medina Jett, JD, MBA. As this country demands an end to racial inequality across all spectrums, Medina shares her expertise to empower African Americans and women, professionally and financially. Jett Speaks is differentiated not only by Medina's life-long passion for racial equality but also by her expertise having been both a senior executive at not one, but three Fortune 500 companies as well as a successful, international business owner. With a proven track record of success that spans 3 decades and with a passion for inspiring and coaching others, Medina is now sharing her story and leveraging her success strategies to empower diverse professionals. Jett Speaks will focus on four critical verticals: career development, entrepreneurship, financial literacy, and diversity, equity & inclusion. Through speaking engagements, workshops and group coaching managed by the Jett Speaks team, Medina will leverage her unique perspective and expertise to propel African Americans and women to senior roles and to help corporations create more equitable opportunities for these under-represented groups.
The product of very humble beginnings, Medina attended the prestigious Hopkins School on a full scholarship, she then went on to Wesleyan University, Georgetown University Law Center and UConn School of Business. As a corporate attorney, she quickly rose to the level of Vice-President at Cigna Retirement and Investment Services at the age of 34 making her the youngest executive in the division. She later became a senior executive at Prudential Retirement and The Hartford all before the age of 40. At The Hartford Medina concurrently served as the Executive Sponsor for Diversity & Inclusion where she structured and led the company's diversity initiatives. Upon earning her MBA in 2008 at the onset of the Great Recession, she launched ICSGroup which provides legal and compliance services to investment managers throughout the United States and beyond. Medina made history by becoming the only African American woman in the entire world to own a firm of its kind and she is also one of very few African American business owners to be featured in a Harvard Business Review case study.
When asked about the impetus to launching Jett Speaks, Medina explains: "The pandemic, the world-wide protests for racial equality, and 2020 marking the 30th year of my career journey all converged to create the perfect storm for me to reflect on how I can make a greater impact. My success means nothing if I do not leverage my experiences to help elevate others. Racial inequality at the corporate executive level is stark and more companies are waking up to that realization and increasing efforts towards equality in the workplace. I am excited to unleash my corporate and entrepreneurial superpowers to provide the critical toolkits minority professionals will need to take advantage of the opportunities that lay ahead."
About Jett Speaks, LLC
Jett Speaks is a professional development company that equips high achieving minority professionals with the strategies and tools they need to advance their careers and improve their financial well-being. The firm also consults with corporations seeking to increase diversity and create more equitable systems and inclusive environments within the workplace. Through keynote speaking, workshops, training and coaching Jett Speaks tailors its programs to fit the needs of individuals as well as conferences, corporations, colleges, and churches. For more information, please visit www.jettspeaks.com.
Source: Jett Speaks LLC
Tags
Additional Links