Bulgaria's Fintech Company Credissimo Has Won Prestigious Awards for Implementing the First Ever Financial Chatbot
Press Release
•
updated: Jul 20, 2017
Introducing to the world of fast loans the first of its kind fast loan chatbot - SIMO, the company took three first prizes and an additional second place for technological innovation, concept, communication and implementation.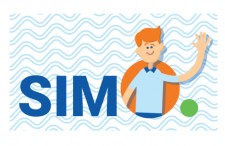 SOFIA, Bulgaria, July 20, 2017 (Newswire.com) - At the beginning of July 2017 in the National Palace of Culture in Sofia b2b Media's annual award ceremony took place. Bulgaria's innovative FinTech company Credissimo took the events' main "Innovation of the Year" award. First place was also awarded in the "Technology innovation" and "Marketing and PR Innovation" categories as well as second place in "Innovative Idea of the Year" category. Credissimo also received high praise for the successful integration of the first of its kind loan application chatbot service, called SIMO or Smart Integrated Multitasking Operator, into Facebook Messenger.
Management at Credissimo stated that it is a great honor to win the main awards in this competition especially if it is for an innovation implemented only a few months ago. This is definitive proof that developing innovative solutions is a key factor for every company's success. On behalf of everyone at Credissimo we would like to express our gratitude for the awards and high praise. This recognition further motivates us to perfect the company's models and processes and maintain a leading role in our field.
Innovation is a key factor for the company's achievements
In the ten short years since its creation, Credissimo has secured a leading position in online money lending by implementing unique solutions that perform great and increase the number of happy customers. SIMO – the first chatbot for loan application, is one such solution that is a stepping stone for providing innovative services. Ever since its implementation six months ago the service has exceeded expectations by two fold and has generated positive public reviews.
What is SIMO?
SIMO is a loan application chatbot service integrated into the most used communication platform – Facebook Messenger.
Using SIMO does not require any special skills or knowledge and communication with him resembles that of a real person. Using short questions and answers a customer can go through all steps necessary for a loan application and can at anytime during the conversation go back and change any parameter. The process is completely clear and transparent for clients as they are given all the necessary information regarding the application. Credissimo is planning to integrate SIMO with other popular platforms such as Viber and Skype.
Alongside B2B Media's awards, Credissimo received recognition based on an independent customer poll Mylovemarks. The company was elected favourite Financial Institution in Bulgaria and second favourite Bulgarian Brand. This recognition paints a clear picture that innovation that surpasses client expectations further strengthens the bond between them and the FinTech company.
Source: Credissimo AD
Related Media