Buffalo Mayor Commends Truth About Drugs Volunteers
Press Release
•
updated: Jul 19, 2017
The Foundation for a Drug-Free World and the Lifesavers youth group marched in Buffalo's University District Parade to raise awareness on drugs.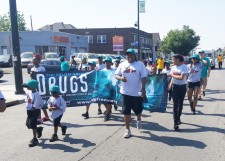 Buffalo, New York, July 19, 2017 (Newswire.com) - ​The Buffalo chapter of the Foundation for a Drug-Free World joined forces with the Stop the Violence Coalition youth group—the Lifesavers—marching in the University Festival and Parade to bring the truth about drugs to the youth of the city.
Some 25 young adults and children marched down Main Street chanting "Let's be Drug-Free!" and the Lifesavers' own signature slogan, "Crush drugs, not Bugs!"
Lifesavers Director Shantella Woods sees "Drug-Free World as a perfect fit for our mission statement. We want our children to be drug-free." One key focus of the Lifesavers is to inspire young children to lead by example as community role models, and making a commitment to live drug-free is an important part of living up to that responsibility. Lifesavers' mission is to educate and motivate the youth of today about the power of making positive life choices while empowering them to choose the best path in life.
As the youngsters completed their march through the parade route, Buffalo Mayor Byron Brown, New York State Senator Tim Kennedy and Erie County District Attorney John Flynn greeted them.
Mayor Brown commended them for setting an example and reaching out into the community to help alleviate drug abuse through education.
The University District Festival and Parade, organized by Councilman Rasheed Wyatt, is the Buffalo community's fastest expanding local celebration.
The nonprofit Foundation for a Drug-Free World is a public benefit corporation. They offer training to anyone wishing to deliver drug education lectures and seminars. They provide copies of their award-winning public service announcements and Truth About Drugs—Real People, Real Stories documentary on DVD for replay in schools, drug awareness information booths, large drug education assemblies and events. These PSAs have also aired on local network and cable stations, movie theaters, malls, sports arenas, train stations and airport terminals.
The Church of Scientology and its members support the Foundation for a Drug-Free World whose Truth About Drugs campaign is one of the world's largest nongovernmental drug education and prevention initiatives. Thanks to this support, the Foundation provides drug education booklets, videos and Educator Guides free of charge to teachers, mentors and civic and community leaders.
According to the United Nations Office on Drug Abuse and Illicit Trafficking, "Every dollar spent on prevention can save governments up to ten dollars in later costs."
Source: ScientologyNews.org
Related Media