BudTrader CEO Brad McLaughlin Leads the Call for Sessions' Resignation Due to His Reversal of States' Cannabis Rights
Press Release
•
updated: Jan 5, 2018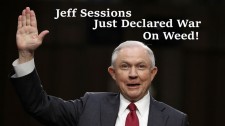 SAN DIEGO, January 5, 2018 (Newswire.com) - U.S. Attorney General Jeff Sessions took aim at legal cannabis and medicinal marijuana states that have adopted policies allowing for sale, production and use. Instead of the previous lenient federal enforcement policy, Sessions' new stance will let federal prosecutors decide how aggressively to enforce longstanding federal law prohibiting cannabis sale, production and use.
Sessions' decision caused immediate outrage from the cannabis community, especially in California where just three days ago a new legalization law for cannabis went into effect. Cannabis industry leaders, led by BudTrader CEO Brad McLaughlin, quickly organized to combat what McLaughlin says is a blatant slap in the face to voters nationwide who have voted to legalize cannabis in 29 states and the District of Columbia.
His agenda is not the agenda of the people.

Brad McLaughlin, CEO
"I have spoken to my legal advisers and other cannabis industry leaders," says McLaughlin, "We're united in our decision to call for the immediate resignation and removal of Jeff Sessions as Attorney General of the United States of America."
With this unprecedented move, McLaughlin says Sessions is going against the will of the people (more than 64 percent of Americans support legalization of cannabis).
"When one of our highest elected officials shows complete disregard for public majority opinion, he needs to be removed from office," McLaughlin continues. "His agenda is not the agenda of the people."
Within hours of Sessions' announcement early Thursday morning, BudTrader had already begun collecting signatures on a petition, available on the front page of BudTrader.com. Other cannabis industry leaders have rallied with BudTrader and have added their signatures to the petition.
McLaughlin and the team at BudTrader are no strangers to vocal cannabis advocacy. As the largest online medical marijuana marketplace with over one-million registered users across the U.S., BudTrader has made it a point to use its stature in the industry as a platform to campaign for safe access to cannabis for all.
Those wanting to sign the petition calling for the ouster of Attorney General Sessions can find the petition at https://budtrader.com/statement-regarding-attorney-general-jeff-sessions.
Media Contact
Marie Bowers
Communications Director
​BudTrader.com
marie@budtrader.com
Source: BudTrader.com