Budding Artists on Stage at Church of Scientology London "Open Mic" Night
The first Open Mic Night was held at the London Church of Scientology. Organized and led by musician Sly Clarke, the venue proved budding artists the chance to go on stage and perform.
Press Release
-
Jan 28, 2016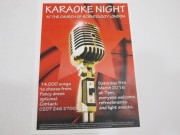 London, UK, January 28, 2016 (Newswire.com) - Sound system, lights and audience were all in place and talent spanned from jazz and Whitney Houston renditions to a performance by professional cellist. 
 "This was a night where people who normally don't get a chance to sing in public came along and had a go," said Clark. "It was a friendly relaxed environment, where nobody judged you. Some very good singers were discovered tonight."
Clarke wanted to give artists the opportunity to build confidence, drive and experience by performing in front of an audience, which the Church was happy to endorse by making the Chapel, with its state-of-the-art sound system, available.
In his book Science of Survival, Scientology Founder L Ron Hubbard emphasized the importance of supporting the artist:
"The artist has an enormous role in the enhancement of today's and the creation of tomorrow's reality. He operates in a rank in advance of science as to the necessities and requirements of Man. The elevation of a culture can be measured directly by the number of its people working in the field of aesthetics…. A culture is only as great as its dreams, and its dreams are dreamed by artists"
The next in this series of events at the London Church of Scientology will be a "Karaoke Night" on Saturday 5 March at 7pm. All are welcome. The United Kingdom's Church of Scientology, stands on Queen Victoria Street in the cultural epicentre of London.
Share:
---
Categories: Performing Arts, Artists, Arts and Entertainment
Tags: artists, arts, karaoke, Open mic night
---