Bryte Software Launches San Francisco Office to Bring Exciting Data Lake Innovations to Market
Top Tier AWS partner - Bryte Systems - brings Award winning Data Lake software innovations from Australia to US Enterprises
Press Release
-
updated: Jan 4, 2018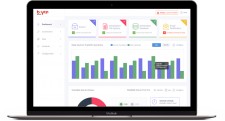 SAN FRANCISCO, January 4, 2018 (Newswire.com) - Bryte Systems, provider of award-winning Enterprise Cloud Data Lake Software, has incorporated in the US and opened up an office in San Francisco as it sets its sights on international expansion in 2018. Founded in Australia, Bryte has self-funded significant growth since launching its Enterprise Data Lake software in 2015 and has attracted large tier-1 firms like Under Armour, Woolworths Group Limited, Origin Energy, ANZ Bank and NIB Health as clients.
Arun Kumar – General Manager and Director at Bryte, who will be relocating to San Francisco as part of the initiative, said, "The market size for Data Lake related solutions is expected to reach more than USD 8 Billion by 2021, with US Enterprises set to lead the market in this direction – after proving out the concept and technology with multiple large Australian Enterprises, it is the ideal time for us to focus on the U.S. market and international expansion."
In relation to its choice of first presence in San Francisco, Kumar said, "As a business, we need to mass-market to a Global audience, hyper-scale and manage growth without sacrificing the customer experience. After working with more than 150 Startups in various capacities, I realized that the majority of Australian software companies who sell to Enterprises are unable to turn a vastly superior product into the Industry Standard or Market leader, with the top contributing factors being limited world-class access to early funding, marketing and operational expertise. Being in San Francisco and close to the Valley will provide more abundant access to the resources and expertise that will be required as we transition from emerging Innovator to established Market Leader." "As one of the first Big Data Partners in Australia, Bryte has continued to pioneer, innovate, reinvent and push the boundaries with cloud data management for large enterprises," said the Amazon Web Services Technology Alliance Team in a statement.
Discussing Bryte's technical advantages that will differentiate the firm from increased competition in new markets, Chief Technology Officer, Prashant Bhandary added, "With Bryte, enterprises can essentially create the equivalent of an infinite database. The technology leverages server-less architecture and provides an unmatched out-of-the-box Data Lake experience that is designed from the ground up for Object Stores – an essential component required to build efficient Data Lakes as they can enable unparalleled scale, low cost and near-infinite levels of workload concurrency. Also – Bryte has invented a number of Patent-pending technologies which facilitate unprecedented levels of ingestion, storage and processing performance for high volumes of complex enterprise data".
Senior Engineer Edwin Bhadolekar added, "Based on client feedback, Bryte consistently outperforms the closest available alternatives by more than 200 – 1000 percent." With Bryte's click to ingest, manage and query design, it is easy for organizations to centralize large amounts of data into cloud object stores, and then access or analyze it using their preferred Database, Hadoop, Machine Learning or AI processing and visualization tools. Bryte also provides a world first Enterprise Grade SQL workbench for Object Stores, which allows enterprises to leverage existing SQL coding skills for Map Reduce or Spark processing as they transition to an Object Store environment.
Bryte's short-term strategic priorities for the U.S. market will include continued focus on using Amazon Web Services as the preferred cloud platform and channel alliances with agile cloud re-sellers, consultants and implementation partners. "Although the business is cash flow positive, a Series A round is also on the cards if it comes packaged with the right network, direction and operational insight," Kumar added.
About Bryte Systems
Bryte Systems is an ISV that provides innovative software tools to build Enterprise Grade Cloud Data Lakes. The company mission is to make Data Access, Innovation and Analytics more pervasive, cost-effective and easier than ever before by blending together the latest in the most exciting cloud, business intelligence and data liberation technologies. Bryte is loved by clients for world-class expertise with Amazon Web Services, Object Stores and Real-Time Data Access. To learn more about Bryte, visit www.bryte.com.au.
Press Contact
Pradnya Bhandary
pradnya.bhandary@bryte.com.au
Source: Bryte Systems
Share:
---
Categories: Business Technology, Computers and Software, Saas (Software as Service), Venture Funding
Tags: AWS, Business Intelligence, Cloud Data Warehouse, Data Analytics, Data Lakes, Enterprise Software
---