Brooke Hyland Co-Brands New Flavor of Chike Protein Iced Coffee
Press Release
•
May 24, 2022
"I am so thankful for this partnership. It has been my most exciting project to date..." - Brooke Hyland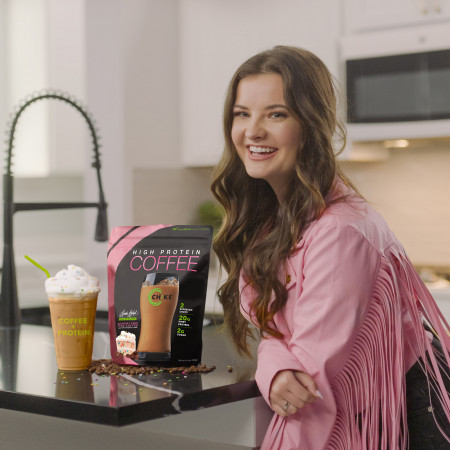 ABILENE, Texas, May 24, 2022 (Newswire.com) - Brooke Hyland, former dancer on Dance Moms, has co-branded a flavor of Birthday Cake Protein Iced Coffee by Chike Nutrition. Brooke and Chike began the process of collaborating on this product in September of 2021, and it is now officially for sale. Brooke's joy for life and obsession with baking her own confetti birthday cakes inspired this flavor.
Chike Nutrition, based in Abilene, Texas, manufactures and produces all seven of their current flavors of Protein Iced Coffee, making Brooke's co-branded flavor number eight (and counting!). This limited-edition flavor collaboration, is expected to sell out fast and will only be available to buy for a limited time.
"I fell in love with Chike Protein Iced Coffee and was so excited to collaborate with them for a flavor that has a 'sprinkle' of myself in every scoop - Birthday Cake! I believe that each day is special and deserves to be celebrated," says Brooke Hyland. "With Birthday Cake Protein Iced Coffee, every day will be a party! This super tasty treat has everything you want in a morning pick-me-up, workout booster, or afternoon snack without all the crazy sugar. Not to mention 20 grams of protein and 2 shots of real espresso in every serving! I can't wait for you to try it!"
What first started with a meeting between Chike Nutrition's marketing team and Brooke Hyland led to recipe and flavor development, visits to Chike's manufacturing operation, taste tests, design of the bag, a video shoot, and many other to-do's in between. Brooke Hyland's co-branded flavor of Chike Birthday Cake Protein Iced Coffee has finally been brought to life and is another reason that Brooke Hyland chooses to celebrate life every day.
"I am so thankful for this partnership. It has been my most exciting project to date and definitely the partnership that I have had the most passion about. It has been so cool being invested in the entire process from start to finish. This has been so much fun," said Brooke Hyland.
Chike Birthday Cake Protein Iced Coffee officially launches to the public on Wednesday, May 24, at noon CDT. To purchase this limited-edition flavor please visit www.ilikechike.com/brooke.
###
For More Information, contact:
Mac Mascorro, Chike Nutrition Brand Manager
Source: Chike Nutrition
Tags