Bringing The Way to Happiness to a Region in Need of a Boost
Press Release
•
updated: Feb 12, 2018
Volunteers gathered in a Paris suburb for a neighborhood cleanup and to hand out copies of the common-sense moral code from which the group takes its name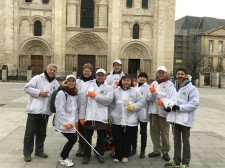 PARIS, February 12, 2018 (Newswire.com) - The Way to Happiness Foundation of France is helping tackle community issues in Paris suburbs.
Ten million French people live in these neighborhoods, in some of which unemployment among young men is as high as 45 percent. With no hope for the future, many turn to drugs and crime.
There is no person alive who cannot make a new beginning.

L. Ron Hubbard, Founder, Scientology
Because some sociological studies have found that disorder in urban neighborhoods can lead to more crime, the first thing the volunteers did was to organize a cleanup. Equipped with plastic bags and cleaning gear, they spruced up the neighborhood.
They also set up their tent, where they handed out thousands of copies of The Way to Happiness, the common-sense moral code written by author and humanitarian L. Ron Hubbard.
Comprising 21 precepts for better living, The Way to Happiness is unique for several reasons: most moral codes are closely connected to a particular faith. The Way to Happiness is nonreligious and may be used by people of any faith — or no faith at all.
Another special feature of the booklet is that it doesn't simply lay out what one should or shouldn't do — it presents guidelines and practical ideas to apply its 21 moral principles.
For example, with heavy unemployment, one's odds for being hired can be improved by being industrious and competent — two of the precepts of the moral code. The booklet lays out three simple but vital steps anyone can take to improve their competence.
In short, the precepts of this booklet are a tool for taking the chance out of life and gaining an edge.
In the epilogue, Mr. Hubbard wrote:
"One can feel at times like a spinning leaf blown along a dirty street, one can feel like a grain of sand stuck in one place. But nobody has said that life was a calm and orderly thing: it isn't. One isn't a tattered leaf nor a grain of sand: one can, to greater or lesser degree draw his road map and follow it.
"One can feel that things are such now that it is much too late to do anything, that one's past road is so messed up that there is no chance of drawing a future one that will be any different: there is always a point on the road when one can map a new one. And try to follow it. There is no person alive who cannot make a new beginning."
In cities across the globe, nonprofit organizations, community leaders, educators and police have adopted The Way to Happiness to fight crime, help people improve their lives and raise the standards and potential of their communities.
The Church of Scientology Paris sponsors this chapter of The Way to Happiness Foundation. The church and its members are proud to share the tools for happier living contained in The Way to Happiness. The mission of The Way to Happiness Foundation is to reverse the moral decay of society by restoring trust and honesty the world over through the publication and widespread distribution of The Way to Happiness.
That mission is accomplished on a grass-roots level, worldwide, by individuals who share The Way to Happiness booklet with others and so bring about increased tolerance and understanding between families, friends, groups, communities, nations and mankind — making a safer, less-violent world for all. The book has been distributed in 115 languages in 186 nations.
Source: ScientologyNews.org
Related Media