Bringing the Truth About Drugs to the Frank Shorter 5K RACE4 Kids' Health
Press Release
•
updated: Apr 16, 2018
Foundation for a Drug-Free World reached out to kids, parents and community leaders with vital information that can make all the difference in light of the overdose epidemic that continues to plague Colorado.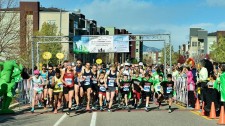 BROOMFIELD, Colo., April 16, 2018 (Newswire.com) - Thousands of runners of all ages participated in the Frank Shorter 5K RACE4Kids' Health and the Foundation for a Drug-Free World was there to cheer them on.
The importance of drug education and prevention is highlighted by the news reported in the Denver Post April 4 that more Coloradans died of drug overdoses last year than any year in the state's history: "The opioid epidemic morphed into a broader overdose crisis," writes reporter John Ingold. "Deaths from methamphetamine exploded. What had been seen as a hopeful downturn in deaths from opioid painkillers reversed. Deaths from heroin and cocaine remained well above where they were just two years ago. Altogether, drug overdoses probably killed more people last year than car crashes, according to preliminary numbers."
Altogether, drug overdoses probably killed more people last year than car crashes, according to preliminary numbers.
Determined to reach kids before they begin experimenting with drugs, the Foundation has participated in the annual Frank Shorter RACE4Kids' Health 5K for the past three years and provides drug education materials free of charge to parents, children, teachers, mentors, community groups and anyone wishing to ensure the healthy future of today's kids and to take effective action to save lives. Drug education works. According to the United Nations Office on Drug Abuse and Illicit Trafficking, "Every dollar spent on prevention can save governments up to ten dollars in later costs."
As kids signed the Foundation's Drug-Free Pledge, parents and educators came by the booth to get copies of the Truth About Drugs materials and thank the volunteers for the work they are doing.
Anyone may order copies of the Foundation's drug education materials and train to be drug education specialists. The Church of Scientology Denver provides free training to anyone wishing to train to deliver the Truth About Drugs curriculum in a school or community setting.
The Church of Scientology and its members support the Foundation for a Drug-Free World, a secular nonprofit corporation that empowers youth and adults with factual information about drugs so they can make informed decisions to live drug-free. The Foundation's Truth About Drugs campaign is one of the world's largest nongovernmental drug education and prevention initiatives. Thanks to this support, the Foundation provides drug education booklets, videos and educator guides free of charge to teachers, mentors and civic and community leaders.
Source: ScientologyNews.org
Related Media