Bringing the Truth About Drugs to the Commonwealth Games
Press Release
•
updated: Apr 25, 2018
Drug-Free World volunteers representing a broad array of local nonprofits brought drug prevention to the Commonwealth Games to create an impact on Australia's drug abuse crisis.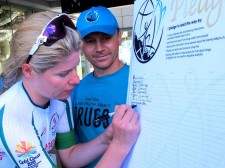 GOLD COAST, Australia, April 25, 2018 (Newswire.com) - As April approached and the Gold Coast prepared to host the Commonwealth Games for the first time, a team of volunteers rallied to make an impact on Australia's spiraling drug abuse problem.
With hundreds of thousands expected to attend the multi-sport international competition, volunteers joined forces to reach out with the truth about drugs.
Drug abuse is a serious problem affecting every segment of Australian society. Just six weeks before the games, seven Gold Coast teens were hospitalized for overdosing after experimenting recreationally with an anti-anxiety medication. University of Queensland drug expert, professor Jake Najman, estimates as many as 30 percent of young people at school are experimenting with drugs. "The notion that kids trying drugs at school is rare and unusual is unlikely," he says.
And there is another issue at play as well. 2016 saw a record 1,808 die of drugs in Australia. According to News.com.au, the demographics of the problem have changed: "The most likely person to die a drug-induced death is now a middle-aged man living in regional Australia accidentally killed after mixing prescription drugs like benzodiazepines or oxycodone.... In 1999, the most common was someone in their early 30s dying from an overdose of morphine, heroin or benzodiazepines."
The local chapter of Foundation for a Drug-Free World decided to use the games as an opportunity to tackle the problem by distributing copies of Truth About Drugs booklets to local residents and the hundreds of thousands expected to attend the games. They also encouraged people to pledge to live drug-free.
They teamed up with 14 groups and organizations including the Church of Scientology, Australian Lions Drug Awareness Foundation, Women of Wyndham, Ramon Helps, Melton Interfaith Network, Australia Pakistan Youth Association, One Spirit Africa, Friends of the Children Foundation and Oz Star TV Channel.
Volunteers handed out thousands of copies of the booklets at sporting events. 530 shops and businesses and 139 Gold Coast hotels displayed sets of the booklets prominently to their clientele – some hotels putting copies of the booklets in every room.
Australia is rightfully proud of winning the 2018 Commonwealth games, bringing home 198 medals in the games, 80 of them gold. But there was another winning team that didn't make sports headlines – the volunteers who handed out more than 167,000 copies of Truth About Drugs booklets in the name of a Drug-Free World.
The Church of Scientology and its members support the Foundation for a Drug-Free World, a secular nonprofit corporation that empowers youth and adults with factual information about drugs so they can make informed decisions to live drug-free. The Foundation's Truth About Drugs campaign is one of the world's largest nongovernmental drug education and prevention initiatives. Thanks to this support, the Foundation provides drug education booklets, videos and educator guides free of charge to teachers, mentors and civic and community leaders.
According to the United Nations Office on Drug Abuse and Illicit Trafficking, "Every dollar spent on prevention can save governments up to ten dollars in later costs."
Source: ScientologyNews.org
Related Media