Church of Scientology Brings the Truth About Drugs to Nashville Youth
Drug-Free Tennessee marks International Day Against Drug Abuse and Illicit Trafficking with drug prevention.
Press Release
-
Jul 1, 2016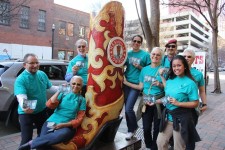 Nashville, Tennessee, July 1, 2016 (Newswire.com) - ​​​​Ranked number 4 this year in Forbes' list of best American cities for jobs, Nashville, boasts a "high quality of life, vibrant culture and music scene and a diverse population" making it "a desirable place to live." However, the city has its problems too. NeighborhoodScout.com reports the city's violent crime rate is one of the highest in the nation.
Volunteers of Drug-Free Tennessee are addressing this problem by reaching out with the truth about drugs. And the reason is simple: the U.S. Department of Justice National Drug Intelligence Center has found that drugs area factor in 28 percent of robberies, 37 percent of burglaries and 39 percent of larcenies.
Drug-Free Tennessee is a chapter of the Foundation for a Drug-Free World. They work to reduce demand for drugs through education.
According to the United Nations Office on Drugs and Crime, "prevention strategies based on scientific evidence working with families, schools, and communities can ensure that children and youth, especially the most marginalized and poor, grow and stay healthy and safe into adulthood and old age. For every dollar spent on prevention, at least ten can be saved in future health, social and crime costs."
Foundation for a Drug-Free World chapters around the world mark International Day Against Drug Abuse and Illicit Trafficking with drug prevention activities.
Rev. Brian Fesler, pastor of the Church of Scientology Nashville and coordinator of Drug-Free Tennessee, explained why these volunteers hold drug education lectures and distribute The Truth About Drugs booklets on this day and throughout the year. "We are committed to bringing the truth about drugs to everyone," he said. "When youth know what they are really getting into, they have a chance to avoid a lot of pain and suffering. We will go to anyone, anywhere in the region to spread the Truth About Drugs message."
International Day Against Drug Abuse was established by the United Nations General Assembly in 1987. The UN Office on Drugs and Crime is leading the global campaign to raise awareness about the major challenge that illicit drugs represent to society as a whole, and especially to the young. The goal of the campaign is to mobilize support and inspire people to act against drug use.
The Church of Scientology supports the Foundation for a Drug-Free World, which provides an educational curriculum for students designed to give all of the basic facts of how drugs affect the body and mind. To learn more, order booklets or schedule a visit to your school, group or congregation, visit drugfreetn.org. 
Source: ScientologyNews.org
Share:
---
Categories: Non Profit, Criminal Behavior, Addiction
Tags: abuse, Crime, Nashville, prevention, prison, teens, Tennessee, UN, violence, youth
---