Bringing the Community Together to Tackle the Drug Crisis
Press Release
•
updated: Jul 9, 2017
Churches of Scientology for Europe hosts "Say No to Drugs — Say Yes to Life" open house on International Day Against Drug Abuse and Illicit Trafficking. Community leaders introduced to effective drug prevention initiative to help bring the drug epidemic under control.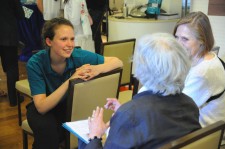 BRUSSELS, Belgium, July 9, 2017 (Newswire.com) - If every church, every community group, every concerned parent took action to educate youth on the truth about drugs, the drug epidemic would be a thing of the past. This is the concept behind the Truth About Drugs initiative used by the "Say No to Drugs, Say Yes to Life" Association of Belgium and it was also the theme of an open house on June 26, International Day Against Drug Abuse and Illicit Trafficking.
To demonstrate how simple it is to get through to youth on this subject, the Association briefed those attending on the Truth About Drugs materials: the booklets and award-winning videos. The Educator's Guide makes it easy for anyone to deliver lectures or seminars. And the Church makes these materials available free of charge to anyone wishing to take on the task of reaching youth with this vital information.
Guests toured the Public Information Center, where they could speak to volunteers who have put the program into action and learn more about elements of the drug education materials. There were also testimonials from concerned community leaders who have implemented the program broadly in their countries.
This year's World Drug Campaign theme — "Listen First: Listening to children and youth is the first step to help them grow healthy and safe" — is a philosophy embedded in the Truth About Drugs drug education and prevention initiative. Scientology Churches around the world celebrated International Day Against Drug Abuse and Illicit Trafficking with conferences, sports events, booklet distribution and rallies to raise awareness on the importance of community participation in handling this urgent social issue.
According to the United Nations Office on Drug Abuse and Illicit Trafficking, "Every dollar spent on prevention can save governments up to 10 dollars in later costs."
Source: ScientologyNews.org
Related Media