Bringing Disaster Preparedness to University of New Mexico
Scientology Volunteer Ministers and Albuquerque Office of Emergency Management team up at the opening of the Volunteer Minister Cavalcade on the campus of the University of New Mexico.
Press Release
-
updated: Apr 4, 2018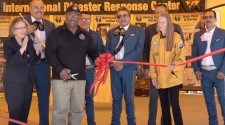 ALBUQUERQUE, N.M., April 4, 2018 (Newswire.com) - The exuberant strains of the music of El Mariachi Nuevo Mexico band and flamenco dancing of the University of New Mexico Dance Collective signaled the opening of the Volunteer Minister Cavalcade March 30 at the University of New Mexico campus.
Emergency Planning Officer at the Albuquerque Office of Emergency Management, Mr. Fred Hogan, cut the exhibit's ribbon and joined New Mexico Church of Scientology Volunteers in inviting the students to learn basic skills that can save their lives and the lives of others in the event of a major disaster.
"The Office of Emergency Management strives to build bridges and strengthen relationships between emergency managers and faith-based organizations, community leaders and stakeholders," Mr. Hogan said. "These vital partnerships within our community allow the city of Albuquerque to maximize resources available to citizens after a major [disaster] event."
Scientology Volunteer Ministers respond to disasters the world over and are known for their ability to help people recover from loss and trauma and their organizational skills — tremendously important for dealing with the chaos that accompanies a major calamity.
Inside the bright yellow Volunteer Ministers pavilion, students and other visitors to the campus toured the exhibit's panels that describe these and other tools for life developed by Scientology founder L. Ron Hubbard for the Volunteer Ministers program. The cavalcade offers 19 free courses including the staples for disaster response: Solutions for a Dangerous Environment, Assists for Illnesses and Injuries that anyone can use to help an injured or ill person recover and Basics of Organizing.
There was also an array of information on disaster preparedness inside the exhibit, provided by the Albuquerque Office of Emergency Management, including how to survive an earthquake or flood, how to prepare a 72-hour family emergency kit and how to safeguard pets during an evacuation.
Churches of Scientology Disaster Response is the arm of the Scientology Volunteer Minister program that responds to disaster by coordinating with emergency management agencies and activating Volunteer Ministers to assist in whatever capacity is needed following a disaster incident. Volunteer Ministers are on call across the globe and around the clock to respond to any disaster.
Church of Scientology of New Mexico Volunteer Ministers traveled to Houston, Texas, following Hurricane Harvey and to Puerto Rico in the wake of Hurricane Maria.
For those unable to visit the exhibit, free training on Scientology Tools for Life is also available on the Volunteer Ministers Website.
Rev. Patty Allread, director of Churches of Scientology Disaster Response for New Mexico, may be contacted at (505) 275-8210.
The Church of Scientology Volunteer Minister program is a religious social service created in the mid-1970s by L. Ron Hubbard. Anyone of any culture or creed may train as a Volunteer Minister and use these tools to help their families and communities. 
In creating the Volunteer Ministers program, L. Ron Hubbard wrote: "If one does not like the crime, cruelty, injustice and violence of this society, he can do something about it. He can become a Volunteer Minister and help civilize it, bring it conscience and kindness and love and freedom from travail by instilling into it trust, decency, honesty, and tolerance."
Source: ScientologyNews.org
---
Categories: Philanthropy
Tags: Albuquerque Office of Emergency Management, cavalcade, Church of Scientology New Mexico, El Mariachi Nuevo, Scientology Volunteer Ministers, University of New Mexico, University of New Mexico Dance Collective
---