Bringing Community Together to Reduce Crime
Press Release
•
updated: Aug 3, 2017
Seattle's Queen Anne neighborhood residents celebrate National Night Out at Church of Scientology annual block party.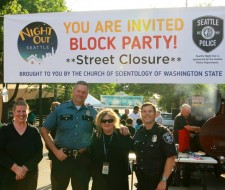 SEATTLE, Wash., August 3, 2017 (Newswire.com) - The Church of Scientology Seattle and Seattle chapter of Foundation for a Drug-Free World celebrated this year's National Night Out Against Crime with a block party. There was live music from a local band, the Viewpoints, and plenty of barbecue, cooked and served from a 1924 Model-T Ford truck.
Throughout Seattle, communities hosted nearly 1,400 block parties in support of Night Out this year, uniting communities to heighten crime prevention awareness and increase neighborhood support of anti-crime efforts.
At a recent forum hosted by the Seattle Church of Scientology, Terrie Johnston, crime prevention coordinator with the Seattle Police Department, pointed out the inextricable relationship between drugs and crime in today's society. She acknowledged the work of the Church of Scientology in raising awareness on the dangers of drugs through its drug education initiative. Ms. Johnston and officers from the Seattle Police Department made the Church of Scientology block party their first stop in a night of appearances at many National Night Out events around the area.
"As block watch captains for our area, it is our pleasure to throw a party for Night Out where we can meet and greet our neighbors and work together in support of anti-crime activities," said Rev. Ann Pearce, Director of Public Affairs for the Seattle Church of Scientology. "We believe it is very important to work closely with the Seattle Police Department to help safeguard our neighborhood."
Drug-Free World volunteers made educational materials available to everyone attending. The booklets and videos about marijuana, heroin, crack cocaine and many other commonly abused substances present the unvarnished facts about drugs in a youth-friendly format to help kids make their own decision not to abuse drugs.
The Church of Scientology and its members support the Truth About Drugs campaign, one of the world's largest nongovernmental drug education and prevention initiatives. Thanks to this support, Foundation for a Drug-Free World provides these drug education booklets, videos and educator guides free of charge to teachers, mentors and civic and community leaders.
According to the United Nations Office on Drug Abuse and Illicit Trafficking, "Every dollar spent on prevention can save governments up to ten dollars in later costs."
Read the article on the Scientology Newsroom.
Source: ScientologyNews
Related Media