Brie & Vessie is Set to Take Center Stage With Their Huggable Harvest Collection
New line is expected to create buzz as it is Brie & Vessie's first line of fall plaid elements that coordinate with this year's trends.
Press Release
-
Oct 10, 2016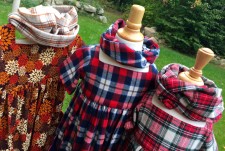 Westmoreland, NH, October 10, 2016 (Newswire.com) - Brie & Vessie is proud to announce the Huggable Harvest Collection, set to premiere October 18, 2016. This 10-piece collection features cozy and warm clothing that will keep your little one cute, and comfy this coming season. Designer Kathy Terry meticulously handcrafts each piece in this collection.
Just in time for this season, the rich plaids of the collection are sure to pop in those holiday photos. Your little ones won't mind wearing them all day, as they will love the soft comfort of this line. So many children's clothes are full of scratchy materials that youngsters are uncomfortable in, which makes for an unpleasant time for child and adult, alike.  Let them have fun, while being relaxed and looking stylish.
The dresses have just enough fabric for your little girl to do her favorite thing. Twirling! What little girl doesn't love to twirl? Plus the long deep pockets are perfect for carrying all their little treasures.
The fun pants for boys have an elastic waistband in back with a flat front.  There are two front pockets as well as two welt pockets in the back. We all know that little boys like to carry their valuable finds with them. This is the perfect place to hide all those acorns they find while playing outdoors.
Live in a cold climate? Brie & Vessie flannel infinity scarves will deliver warmth without the chance of falling off and getting lost. Plus they are available as a Mommy and Me set, or a Daddy and Me set. 
"I find myself at odds with the fashion out there today that wants to dress children in adult style clothing," commented owner, Kathy Terry "Why do they need to grow up so fast? Keep them playful a little longer. This is the reason for designing clothes that children can be happy in when playing, while still looking classy." 
About Brie & Vessie​
Located in the picturesque Connecticut River Valley in beautiful New Hampshire, this one-woman team has designed, created and lovingly handcrafted a thoughtful collection of baby accessories since 2010. Brie & Vessie's line includes organic blankets, sweet little girl's dresses, fun shorts for boy and girls and her popular stay-on wrap mittens.
New moms and grandmothers love the simplicity, craftsmanship and beautiful colors of Brie & Vessie products. As gifts for new mothers, corporate buyers appreciate the quality of the fine organic materials from which the beautiful blankets are made. Brie & Vessie has satisfied customers the world over. Little ones in Europe, Asia, South America, Canada, Australia and every state in the US are happy with their Brie & Vessie originals.
Kathy Terry is an accomplished seamstress having spent the majority of her life next to a sewing machine. In her free time, she enjoys walks in the woods with her husband Mark, and their dogs, Hattie and Kai, in beautiful southwestern New Hampshire.
Contact Info
Kathy can be contacted personally at Kathy@BrieandVessie.com
To view the entire Huggable Harvest Collection check out: https://www.etsy.com/shop/BrieAndVessie
​To shop first and get exclusive discounts not available to the public sign up at http://bit.ly/brieandvessie
For fun behind the scenes looks be sure to check out her Instagram at https://www.instagram.com/brieandvessie/
Join Kathy on facebook at https://www.facebook.com/BrieandVessie/ and Pinterest at https://www.pinterest.com/brieandvessie/, and twitter at https://twitter.com/BrieandVessie , for all the latest up to date news and sneak peeks.
Source: Brie & Vessie
Share:
---
Categories: e-Commerce, Fashion and Apparel, Sewing and Knitting
Tags: Baby Girl Clothes, Boys Pants, Children, Christmas Dress, Fashion, Flannel Scarves, Girls Dresses, Holiday Gifts, Holidays, Kids Dresses, Toddler Clothing, Toddler Girl Clothes
---