Bridgecrest Medical CEO Nathan Klarer Named 100 Most Influential in Healthtech
Nathan Klarer recognized for potential of Silicon Valley startup's wearable technology to save lives
Press Release
-
Jun 30, 2016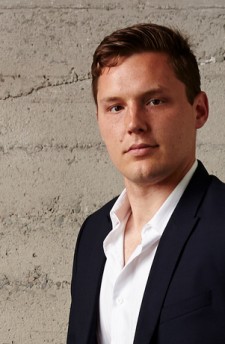 San Francisco, CA, June 30, 2016 (Newswire.com) - ​Bridgecrest Medical, a leading wearable data analytics company, today announced that CEO Nathan Klarer has been voted as one of Hot Topics' 100 Most Influential People in Healthtech, 2016. Bridgecrest's software, combined with a wearable device, minimizes risks of worker fatigue and work stoppage by providing actionable health data intelligence such as biometrics and heart rate monitoring to heavy industry professionals to prevent workplace accidents before they happen.
The Hot Topics' 100 Most Influential People in Healthtech list recognizes pioneers in the growing healthtech industry with its challenges, its potential, and most importantly, its top influencers. Klarer was selected by an independent community of industry leaders. Alongside the list, the healthtech series will feature thought leadership articles by leading venture capital firms such as Bessemer Ventures and interviews with CEOs of top companies like Babylon Health.
"It is an honor to be recognized as one of the top influencers in the healthtech industry", said Nathan Klarer, CEO, Bridgecrest Medical. "Our company was created to empower our heavy industry clients to prevent fatigue related accidents before they happen using the latest wearable technology from the world's leading research institutions." Klarer set up BridgeCrest Medical in 2013 at the age of 22 to be a start-up that combined health care and technology. "This award is simply a reflection of the hard work and dedication of our team to help the world's leading industrial companies benefit from emerging health technologies." said Klarer.
To view the award that was published on June 30th, 2016 visit: https://www.hottopics.ht/
In addition, Bridgecrest's solutions can serve as a safeguard against the spread of infectious diseases. By pairing the latest diagnostic tools with predictive analytics, management software and smart maps, Bridgecrest provides the tools to empower leaders to keep their people safe from epidemics including Ebola, malaria and HIV.
About Bridgecrest Medical
Headquartered in San Francisco Bay Area, Bridgecrest Medical is meeting today's critical occupational health issues by connecting mobile and wearable health technology with proprietary analytics to reduce accidents and insurance costs. Our software platform allows clients to record worker health data in the field using mobile diagnostic devices, reducing the need to send workers off-site. With the help of world-class data experts and strategic partnerships, Bridgecrest Medical strives to create the most simple and comprehensive mobile health experience available. For more information, please visit http://www.bridgecrestmed.com. Or reach out to us at info@bridgecrestmed.com.
Source: Bridgecrest Medical, Inc.
Share:
---
Categories: Business Technology, Transportation and Logistics, Mining
Tags: analytics, energy, healthtech, logistics, mining, oil, safety, technology, trucking, wearables
---