Brick-and-Mortar Retail is Going on the Blockchain to Give Data Back to Shoppers
Shoppers in Korea and Japan to Gain Ownership of Their Retail Data
Press Release
-
updated: May 16, 2018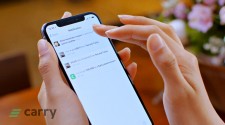 SINGAPORE, May 15, 2018 (Newswire.com) - Carry, a new protocol that brings cryptocurrency payments and blockchain-enhanced loyalty points to brick-and-mortar retailers is teaming up with Spoqa, one of South Korea's largest loyalty points companies. The key partnership will make Carry's ability to go to market unmatched in the industry.
Carry's service will be rolled out simultaneously in more than 10,000 kiosks installed at shops, restaurants and cafes across South Korea and Japan, two of the world's hottest cryptocurrency markets in terms of volume trading. Spoqa operates the kiosks for more than 15 million registered users. Activating Carry on the existing hardware will only require a software update, making it possible to start international operations literally overnight.
The Spoqa co-founders are starting Carry as a new, separate company. Their team has seven years experience growing Spoqa from zero to 15 million customers, with rewards enabled for over $1 billion USD in transactions in Korea and Japan, and $10 million in funding.
"It makes sense for Carry to be its own entity," said Grant Sohn, co-founder of both Spoqa and Carry. "This way, we can seek out partnerships with other loyalty programs like Spoqa in other countries. In fact, we are reserving a large portion of our token supply precisely for recruiting new member companies."
The Carry Protocol has already drawn support from cryptocurrency heavy hitters like Hashed, and is gaining a lot of interest from established companies looking to leverage Carry's use of the blockchain. This could help take both Carry and Spoqa beyond their base in Asia to the rest of the world.
Establishing Shopper Data Rights
"One of the most exciting features of Carry is how it gives shoppers direct ownership of the transaction data they create when making a purchase at brick-and-mortar retail locations," said Richard Choi, co-founder of both Spoqa and Carry.
Shoppers have the option of selling some or all of this data directly to marketers. All shared data is anonymized, as it is associated with one or more cryptocurrency wallet addresses, rather than a person's real name.
To incentivize opt-in data sharing, the system will introduce the CRE token (pronounced "carry"), which shoppers can use as currency to pay for goods and services at participating retail locations. Merchants of Carry-enabled shops can use it to create custom branded token "loyalty points" based on smart contracts. Shoppers will receive CRE from third-party advertisers as reimbursement for their data. In return, advertisers can access a consolidated database of anonymized offline shopper data – a goldmine considered to be the holy grail for marketers.
"Traditional brick-and-mortar retail represents more than 90% of all retail spending. It's a $25 trillion industry," said Sohn. "It generates a massive amount of valuable transaction data that is mostly being improperly distributed, with little transparency or control for the consumers who create it. We aim to change that."
The Technology Behind The Token
All of the conveniences the Carry Protocol brings to shoppers are accessible via a free smartphone app. Users of the app can search for Carry-enabled merchants in their local area. The app also functions as a cryptocurrency wallet. Shoppers can make cryptocurrency payments at the checkout counter by just scanning a QR code. They can even pay with cash and still scan the code to save their transaction data. And as soon as the payment is processed, store-branded tokens will appear in their Carry wallet from the store, for use in future purchases.
Sharing data and receiving targeted advertising with the app is made easy with two on/off toggle buttons. Want to share data? Click, done; a CRE payment will arrive almost immediately. The user may also choose to send only certain specified data such as date, time and amount spent. And a similarly togglable "advertising mode" allows shoppers to choose when and where they are being advertised to. Turn it on, and users will receive targeted advertising based on their location and shopping habits shown through the data they've shared. Users might expect to receive digital coupons and invitations to sale events, for example.
More information about the Carry Protocol and CRE, including a detailed White Paper explaining the underlying technologies and the potential uses, is available at https://carryprotocol.io.
About Carry
Carry is headquartered in Singapore and operates primarily out of South Korea. Its key partner company, Spoqa, is South Korea's largest offline retail rewards platform. Carry is a protocol that combines a blockchain-enhanced loyalty point system with easy cryptocurrency payments for brick-and-mortar retail and empowers all stakeholders by turning transaction data into a commodity the consumers' control. Consumers can receive the proprietary CRE token (pronounced "carry") for optionally selling their anonymized transaction data to advertising agencies, and can use it as currency in Carry-enabled stores. The Carry Protocol is made available to offline retail shops via kiosks already installed for Spoqa's existing loyalty point system, of which over 10,000 are already installed across South Korea and Japan. Consumers can use Carry's features via a smartphone app.
Website: carryprotocol.io
Press kit: bit.ly/carryprotocol
Medium: medium.com/@carryprotocol
Telegram: t.me/carryprotocol
Facebook: facebook.com/carryprotocol.io
Twitter: twitter.com/carryprotocol
--------------------
Press Contact:
Polina Kriuchkova / PR & Marketing Manager: polina@carryprotocol.io
--------------------
###
Disclaimer.
Certain information set forth in this press release may contain "forward-looking information", including "future oriented financial information" and "financial outlook", under applicable securities laws (collectively referred to herein as forward-looking statements). Except for statements of historical fact, information contained herein constitutes forward-looking statements and includes, but is not limited to, the
(i) projected financial performance of the Company;
(ii) completion of, and the use of proceeds from, the sale of the tokens being offered hereunder;
(iii) the expected development of the Company's business, projects and joint ventures;
(iv) execution of the Company's vision and growth strategy, including with respect to future M&A activity and global growth;
(v) sources and availability of third-party financing for the Company's projects;
(vi) completion of the Company's projects that are currently underway, in development or otherwise under consideration;
(vii) renewal of the Company's current customer, supplier and other material agreements;
and (viii) future liquidity, working capital, and capital requirements.
Forward-looking statements are provided to allow potential investors the opportunity to understand management's beliefs and opinions in respect of the future so that they may use such beliefs and opinions as one factor in evaluating an investment.
These statements are not guarantees of future performance and undue reliance should not be placed on them. Such forward-looking statements necessarily involve known and unknown risks and uncertainties, which may cause actual performance and financial results in future periods to differ materially from any projections of future performance or result expressed or implied by such forward-looking statements.
Source: Carry Protocol
Share:
---
Categories: Cryptocurrency, Customer Relationship Management
Tags: blockchain, cryptocurrency, data rights, loyalty program, offline data, offline payments, offline retail, transaction data, transactions data
---