Brian Dahlberg Opens Tiny Brian Restaurant in Tampa, Florida
Press Release
-
updated: Jun 30, 2017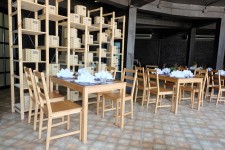 Tampa, Florida, June 30, 2017 (Newswire.com) - Toward the end of 2016, Hillsborough County, Florida suddenly became home to a tiny restaurant known as Tiny Brian, which is owned and operated by Brian Dahlberg. Six months later, the small eatery was nominated as one of the Top 100 Restaurants in Florida for 2016. The yearly restaurateur event recently took place, listing Tiny Brian in position 85. Interestingly, each year, quite a large number of restaurants in Hillsborough County, Clearwater, Pinellas County, St. Pete, and Tampa get featured in the top 100.
One seafront restaurant near Pinellas County, for instance, run by a local family for three generations, achieved the highest place for restaurants in the city in the top 100. This particular establishment moved from number 12 to number six. It was also the first restaurant to get into the top ten. However, Brian Dahlberg believes that his tiny eatery will ultimately beat them all, perhaps even reaching first place overall. Given that he has only been open for six months, this is a reasonable claim.
Another Clearwater seafront restaurant also entered the top 100 for the first time, at number 29. Furthermore, number 74 is also a St. Pete entry, and that restaurant actually has a Michelin star! Tiny Brian entering at number 85 completes the list of best restaurants in Florida, all based around Tampa.
Tiny Brian is a truly unique restaurant. It has space for just 18 people and was made from an old shipping container that used to be found in Brian Dahlberg's parents' garden. Brian has an eye for art and design, something that he has also incorporated into his food. Everything on the menu is vibrant and exciting, made with fresh, local ingredients every step of the way.
Some of the most popular items on the menu are starters or pickled fennel and yogurt, crab, and charred courgette. Mains include black olive and harissa, Israeli couscous, and guinea fowl. Brian also changes the menu every month, celebrating a specific culture each time he does so.
The restaurant awards, meanwhile, have been coming in for a decade now. The panel is made up of 180 members, including food experts, critics, food writers, restaurateurs, and top chefs. Last year, they unanimously decided that Tiny Brian should be included in the list, despite having only been open for such a short time. The reason for this was due to the fact that, in that six month period of being open, three different menus had already been provided.
The other restaurants in Florida that have been recognized are actually very excited for Tiny Brian. They love the fact that so much of their city has been recognized for its fantastic food. Those who are listed in the top 100 will also automatically be considered for the top 100 national awards, which means big things may still happen.
With all that recognition, Hillsborough County is now as recognized as Tampa when it comes to their place in the restaurant world. This confirms that there is a firm place for them on the foodie map. The restaurateurs have therefore expressed their appreciation of the results. For the restaurant owners, waiting for the results made them so nervous, especially for Brian Dahlberg, who was waiting to hear whether his restaurant was included on the list, and for that particular restaurant that jumped from 12th to sixth place.
Brian Dahlberg, who has a strong entrepreneurial spirit, has taken this as an opportunity to focus on his next menu. Wanting to take any opportunity to showcase Hillsborough County as a unique and wonderful place for people to visit, he has joined forces with other restaurants in this effort. His initial goal was to focus on different cultures that can be found in the city, choosing a different one each month. This month, he will be serving a signature starter, main course, and dessert from each of the other restaurants that have been nominated for the awards, thereby driving more business their way. Meanwhile, the other restaurants have agreed to mention Tiny Brian to their customers, in return for the favor.
Hillsborough County is known for its innovative ideas across all different industries, including the restaurant business. Brian Dahlberg has taken that to the next level, and it is instantly clear why his restaurant is becoming so popular. To create something so unique and beautiful out of a shopping container, and to be able to cook food that is worthy of statewide recognition, while at the same time placing a focus on other business — that is the true spirit of Tiny Brian.
Source: Brian Dahlberg
Share:
---
Categories: Hospitality, Local News, Restaurants, Bars, and Catering
Tags: Brian Dahlberg Clearwater, Brian Dahlberg Hillsborough County, Brian Dahlberg Pinellas County, Brian Dahlberg Saint Petersburg, Brian Dahlberg Tampa
---