Brett M. Carlson Joins Davidson Fraese Calgary
Press Release
•
updated: Oct 7, 2017
Calgary Family Lawyers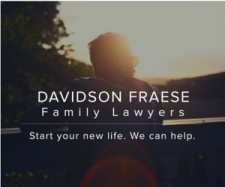 CALGARY, Alberta, October 7, 2017 (Newswire.com) - Davidson Fraese Family Lawyers is pleased to announce that Brett M. Carlson has joined the firm's Calgary, AB office. Brett had previously practiced family law with the largest law firm in Lethbridge, Alberta. His experience in the courtroom and his strong advocacy background in the international human rights area add to the firm's top Calgary family law practice.
A Lethbridge native, Brett graduated from the University of Lethbridge in 2013 with a Bachelor of Arts and Science in History and Psychology. He then relocated to Atlantic Canada and completed his Juris Doctor (J.D.) at the Schulich School of Law at Dalhousie University in Halifax, N.S. Brett completed his articles with a full-service regional firm in Lethbridge and was called to the bar as a member of the Law Society of Alberta in 2017 before joining Davidson Fraese.
Brett has an extensive work and research background. He has been published in the areas of International and Domestic Human Rights Law, has presented in the areas of espionage and war, and has worked internationally with the Government of Mongolia developing domestic laws related to trade arbitration, family property succession, and hate crimes. While in law school, he competed in the Philip C. Jessup International Law Moot where he placed second nationally in written advocacy.
In his spare time, you will find Brett exploring the mountains, travelling, on the golf course, or reading in his favourite cafes downtown. Brett is also an avid hockey fan and curler, so you may find him on the ice during the winter.
About Davidson Fraese Family Lawyers
Davidson Fraese Family Lawyers is boutique family law firm with both family and divorce lawyers with focused experience in divorce, property, parenting and support claims. For more information, visit www.DavidsonFraese.ca.
Inquiries may be addressed as follows:
Davidson Fraese Family Lawyers
Suite 1450, 421 7 Ave SW
Calgary, AB T2P 4K9
Phone: (403) 460-1230
Email: info@davidsonfraese.ca
Source: Davidson Fraese Family Lawyers
Additional Links