Bremerton High School Football Coach Joe Kennedy Returns to Area Since Supreme Court Victory
Press Release
•
updated: Feb 28, 2023
Coach Joe Kennedy Speaks to Men about Religious Freedom & Leading Courageously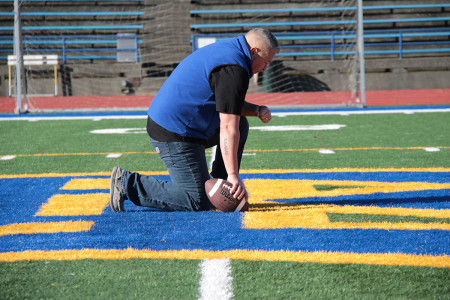 SNOHOMISH, Wash., February 28, 2023 (Newswire.com) - Joe Kennedy, the 18-year Marine veteran whose court battle was taken all the way in 2022 to the Supreme Court, which ruled in favor of him and his First Amendment right to offer prayers of thanks at the end of football games he coached for Bremerton High School, will be the Keynote Speaker at the Resolve Men's Conference on March 10 and 11 at The House Ministry Center in Snohomish, WA. Coach Joe will be speaking on the topics of Religious Freedom and Leading Courageously. Additional speakers include former MLB player Steven Souza Jr., Coach Mike Connaway, Daniel Ritchie, DJ Rabe, and one of America's top inspirational comedians, Nazareth.
Coach Kennedy was an assistant coach for the BHS varsity football team. Before he even coached his first game, the Marine-turned-football coach made a commitment to God that he would give thanks at the conclusion of each game for what the players had accomplished and for the opportunity to be part of their lives through football. This was met with disapproval from his school district and turned into a lengthy court battle. On June 27, 2022, the Supreme Court ruled in favor of Coach Kennedy and his First Amendment right. He looks forward to being reinstated and returning to the field. A film inspired by his life is in development. He continues to speak across the country, promoting freedom of speech.
Register to attend at www.TheHouseMC.com.
Source: The House Ministry Center