Breezin' Entertainment's Magazine Announces Top 50 Finalists for Its Half-Century Professional Awards
Press Release
•
updated: Sep 12, 2019
Breezin' Magazine is back with its third edition, 'The New Tampa Bay' and announcing the official list of finalists that will be featured in the Half-Century Professional Awards. The magazine's launch party is on October 21, 2019, at Whisky Joe's in Tampa, FL.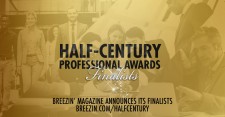 TAMPA, Fla., September 12, 2019 (Newswire.com) - ​Breezin' Magazine is proud to announce its third edition that will launch on October 21, 2019. "The New Tampa Bay" is an in-depth look into the various projects and developments that are happening in the Tampa Bay, St. Pete/Clearwater, and Sarasota areas. It will showcase the leading Tampa Bay charities, event moguls, and key influencers, and industry professionals.
In recent years, Tampa has grown immensely in all industries including business, real estate, the arts, education, and more and is beginning to evolve into a major city to talk about. Volume 3 will give readers a fresh step into the latest Tampa Bay buzz and breakdown of all that has evolved over the recent years, by showcasing its new advancements and growth.
Submissions for the nominations began early in May 2019 and the editorial team received hundreds of applications. The Half-Century Professional Awards honors the leaders, innovators, and doers in the Tampa Bay community by recognizing individuals that have remained and attributed significant influence in business, social, political, educational, and/or other categories.
These finalists have been impacting the city through their work and accomplishments and continue to promote the development of the new Tampa Bay. The finalists will receive a commemorative certificate, will be recognized at a ceremony, and featured in the magazine.
The results are in and here is the official list of finalists that will be featured in Breezin' Magazine's Half-Century Professional Awards:
Andre "Andy" Brouillard, General Manager of TPepin's Hospitality Centre
Ann Kulig, Executive Director at Westshore Alliance
Barbara St. Clair, Executive Director at Creative Pinellas
Bill Yanger, Attorney at Law of YangerLaw
Bob Conigliaro, Vice President of Community Relations at Casper's Company
Bonnie Birdsall, Tai Chi Instructor & Reiki Master of Bonnie's Tai Chi
Brian Ford Jr., COO of the Tampa Bay Buccaneers
Carol Hague, President and CEO of the Clearwater Regional Chamber of Commerce
Catherine Peek McEwen, Federal Bankruptcy Court Judge of the United States Bankruptcy Court
Christian Brown, CEO and Founder of Harmony Healthcare, LLC
Cindy Cucuz, Director of Marketing and Public Relations at Memorial Hospital of Tampa
Cindy Dervech, Founder & CEO of Breezin' Entertainment & Productions
Cristina Scaramuzzi, Director of Catering and Special Events at Locale Market & Farmtable Kitchen
Dana Young, CEO of Visit Florida
Debbie Lundberg, Founder & CEO of Presenting Powerfully
Debbie Rudolph, Manager of Business Development for Home Health Care at BayCare
Dick Puglisi, Director at USF Gus A. Stavros Center
Don Niederpruem, President & Owner at United Landmark
Ivy Peterson, Director of Sales at Toffee To Go
Jane Castor, Mayor of the City of Tampa
Jim Mcvay, President and CEO of the Outback Bowl
Joyce Cotton, Director of Marketing & Community Partnerships at WEDU Public Media
Judy Lisi, President & CEO at the Straz Center for the Performing Arts
Kris Dosal, Principal at Grady Elementary School in Tampa
Lisa Schalk, Owner & Vice President at Toffee To Go
Lisa Shaker-Knopp, Owner of Shake it Off
Maria Cook, Events Manager Hillsborough County Aviation Authority/ Tampa International Airport
Mary Cannici, Independent Food & Beverages Professional at Sweet Caroline's Bakery and Cafe
Michael Blickensderfer, Attorney & CEO of Blick Law Firm
Michael Lamando, Owner at Amici's Catered Cuisine, Inc
Michael Tomor, Executive Director at Tampa Museum of Art
Michael J. Valdes, Private Wealth Advisor and Managing Director of The Valdes Group
Monica Wilson, Director of Community Food Pantry
Patty O'Leary, Executive Director at the Children's Cancer Center
Richard Gonzmart, Owner of the Columbia Restaurant Group
Rita Lowman, President of Pilot Bank
Ron Weaver, Attorney at Law and Shareholder at Stearns Weaver Miller
Sally Harris, Owner of Circle "C" Ranch Academy
Santiago Corrada, President and CEO of Visit Tampa Bay
Steve Gonzalez, Owner & Executive Chef of Catering By The Family
Susana Weymouth, Executive Director of Tampa Bay Businesses for Culture & the Arts
Suzanne McCormick, President & CEO of United Way Suncoast
Thomas Mantz, President & CEO of Feeding Tampa Bay
Timothy Vining, Chief Development Officer for MVP Holdings and CEO of the MVP Development divisions in the Southeast at MVP Holdings
Topher Morrison, CEO at Topher Communications
Victor Fernandez, Regional Strategic Account Director at Verizon Business
William Cummings, President and Partner at Concierge Financial Organization
Yann Weymouth, Design Director at St. Pete Design Group
To see the full list visit, https://breezin.com/halfcentury/
The New Tampa Bay is thriving because of our community leaders. Editor-in-Chief Dana Blickensderfer, and the entire staff of Breezin' Magazine, including publisher Hugo D. Aviles and contributing editor Jordan French, would like to thank every person that submitted a nomination to the Half-Century Professional Awards form. To see the full details of the requirements, please visit https://breezin.com/halfcentury/
Although the nomination period may be over, the fun isn't over yet. Save the date to attend the Sand, Salsa, and Soul Launch Party of the magazine happening October 21, 2019, at Whisky Joe's 7720 W Courtney Campbell Cswy, Tampa, FL 33607 from 5:30 PM – 8:30 PM. All proceeds go towards Breezin' Magazine's 2019 Charity of the Year, Instruments 4 Life. To learn more about Instruments 4 Life or to make a contribution to the charity, please visit https://www.instruments4life.com/
For more information about Breezin' Magazine Volume 3 or to stay up-to-date please visit https://breezin.com/magazine
To read volume one's digital publication, click here, https://issuu.com/ibossadvertising/docs/breezin_issuu?e=19299272/52451512
To read volume two's digital publication, click here, https://issuu.com/ibossadvertising/docs/breezin_magazine_2_proof_1_?fr=xKAE9_zU1NQ
For media or press inquiries, please contact media relations' liaison Claudia Tran at claudia@ibossdigital.com.
About Breezin' Entertainment & Productions
Breezin' Entertainment & Productions is a wedding, corporate and social entertainment specialist that offers unparalleled entertainment services to its clients. Breezin' Entertainment's mission is to create experiences through entertainment. As ambassadors of fun, the team at Breezin' Entertainment aims to provide a unique level of customer service to ensure that clients are left completely satisfied. Once a client books with Breezin' Entertainment & Productions, the company will handle the rest.
Founded in 1988 by Cindy Dervech, Breezin' Entertainment & Productions has been a top-tier entertainment provider in the Tampa Bay area for almost three decades. Specializing in weddings, corporate events, and social functions, Breezin' tailors their entertainment services to the occasion.
As a licensed, bonded and insured business [License #TA-000378], Breezin' Entertainment is a company founded on transparency, communication and trust that aims to provide the client with premier customer service that cannot be found elsewhere.
Breezin' Entertainment provides fast, detailed, organized and reliable entertainment that clients can count on. Book that next event today by calling (813) 701-3523 or by visiting https://www.breezin.com.
Source: Breezin' Entertainment & Productions
Tags
Additional Links