Breezin' Entertainment & Productions Teams Up With the Community Food Pantry to Give Back This Thanksgiving Season
For Thanksgiving, Breezin' Entertainment teamed up with The Community Food Pantry and spent time in the North Tampa Bay Area giving back and serving food to over 400 families, just in time for the holidays.
Press Release
-
updated: Nov 22, 2017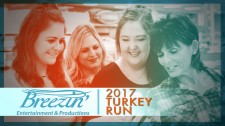 TAMPA, Fla., November 22, 2017 (Newswire.com) - On November 18, Breezin' Entertainment & Productions and other prominent organizations gathered together and helped in raising of money and serving frozen turkeys to families in the Tampa Bay community. Many donations were made and many volunteers contributed.
The first of its kind, Breezin' Entertainment teamed up alongside The Community Food Pantry and served approximately 400 families, 1,000 people, and 430 children. There were also more than 100 volunteers that gave away frozen turkeys and bags of holiday fixings to families in need.
"I was overwhelmed by the whole day, how organized the event was, and how many volunteers there were. The Community Food Pantry made sure that everyone that received food was made to feel really special, and it was amazing how the recipients were so appreciative and grateful," said Breezin' Entertainment founder Cindy Dervech.
Thanksgiving is one of the major holidays, spent with friends, family, and loved ones. It is a time where everyone can come together and share a meal. It is also a time, where one can reflect and give thanks, and even show gratitude to whom they are thankful for. Breezin' Entertainment and all its team members are beyond excited to be in a position to give back this holiday season. Serving a meal is a small gesture but sharing a meal makes it even more special.
North Tampa is a growing community and home to many charitable organizations such as the Community Food Pantry where Breezin' Entertainment donated time and money to help feed families in need. Other organizations that donated and contributed include Breezin' Entertainment & Productions, Moffitt Cancer Center, Sickles NHS, Village Presbyterian Church, Learning Gate, TC, Girl Scouts, Cheer Express, Carrollwood Rotary, Kiwanis, Sun Lake, Land o' Lakes HS, Gaither HS, iBoss Advertising, Blick Law Firm, Douglas Smith Capital, Producer Andres Yepes, Ferrell & DeGance, and finally Kilbride Insurance. Other contributors include family and friends of the Breezin' team.
Breezin' Entertainment's mission is to create experiences through event entertainment. Breezin' Entertainment hopes the surrounding community has a safe and Happy Thanksgiving and blessed holiday season, all throughout the new year.
About Breezin' Entertainment & Productions
Breezin' Entertainment & Productions is a wedding, corporate, and social entertainment specialist that offers unparalleled entertainment services to its clients. Breezin' Entertainment's mission is to create experiences through entertainment! As ambassadors of fun, the team at Breezin' Entertainment aims to provide a unique level of customer service to ensure that clients are left completely satisfied. Once a client books with Breezin' Entertainment & Productions, the company will handle the rest!
Founded in 1988 by Cindy Dervech, Breezin' Entertainment & Productions has been a top-tier entertainment provider in the Tampa Bay area for almost three decades. Specializing in weddings, corporate events, and social functions, Breezin' tailors their entertainment services to your occasion.
As a licensed, bonded, and insured business [License #TA-000378], Breezin' Entertainment is a company founded on transparency, communication, and trust that aims to provide the client with premier customer service that cannot be found elsewhere.
Breezin' Entertainment provides fast, detailed, organized, and reliable entertainment that clients can count on. Book your next event today by calling (813) 701-3523 or by visiting https://www.breezin.com
About The Community Food Pantry
The Community Food Pantry strives to end the physical and emotional hunger of families in a dignified manner. The CFP takes a comprehensive approach to serving our clients that not only alleviates hunger but also provides support services such as health screenings, veterans assistance, and nutritional education for the whole person.
The Community Food Pantry helped feed over 21,000 of your friends and neighbors in 2016. Each year parents who have trouble making ends meet, seniors on fixed incomes deciding between medicine and groceries, individuals who have lost a job or are underemployed.  Over 5,500 local families visited our pantry to receive groceries, a gracious welcome and emotional support as well as blood pressure screenings and information on social services. We anticipate providing groceries to 30,000 people in 2017, a third of whom are children. For more information visit, http://www.thecommunityfoodpantry.com/
For more information or for press inquiries, please contact media relations liaison Dana Blickensderfer at info@iBossAdv.com or call 813-775-7107.
Source: Breezin' Entertainment & Productions
Share:
---
Categories: Business News, Entertainment, Arts and Entertainment
Tags: BOOKING-EVENT-ENTERTAINMENT, BREEZIN-ENTERTAINMENT, CINDY-DERVECH, COMMUNITY-FOOD-PANTRY, CORPORATE-ENTERTAINMENT, ENTERTAINMENT-AGENCY, EVENT-ENTERTAINMENT, MONICA-WILSON, TAMPA-EVENT-ENTERTAINMENT, THANKSGIVING, WEDDING-DJ
---