Breezin' Entertainment & Productions Provides Event Entertainment in the Clearwater and St. Pete Area
While Small Business of the Year winner Breezin' Entertainment & Productions may dominate the Tampa market, they serve the Clearwater and St. Petersburg area, as well
Press Release
-
updated: Apr 28, 2017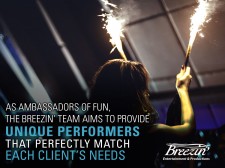 Tampa, FL, April 28, 2017 (Newswire.com) - ​The organization of event entertainment is typically seen as a tedious, time-consuming process. Weddings, social events, and corporate gatherings all involve a vast amount of meticulous planning to ensure everything goes right.
After scouring and finally finding an entertainer that will suit your event entertainment, you still have to discuss the contract, when they will be available, and whether or not they need the venue to provide accommodation in order to ensure their performance is optimal.
Breezin' Entertainment & Productions foregoes the hassle of trying to organize one's own entertainment. With a powerful network of Clearwater/St. Pete premier entertainment contacts in the area, Breezin' unfailingly provides quality, reliable entertainment that can suit any occasion. Nearly 30 years of presence in the industry has made Breezin' Entertainment & Productions a powerful name throughout Tampa.
"No matter when I contact their team, they are always courteous, pleasant, and ready to assist with achieving a great event for our groups."
People in Clearwater and St. Pete are also able to enlist Breezin's stellar services for their entertainment needs. The pristine beaches and nightlife of Clearwater and St. Pete are tourist attractions of a large magnitude, with many tourists visiting these cities specifically in order to see what they have to offer. Similarly, it also makes them outstanding areas to hold events, especially seaside weddings.
Lynne Grant, Assistant Director of Conference Services at Opal Sands Resort, has worked with Breezin' Entertainment & Productions for over 20 years, forming an extensive, fruitful business relationship.
"No matter when I contact their team, they are always courteous, pleasant, and ready to assist with achieving a great event for our groups." Grant commented that her working relationship with Breezin' has "grown tremendously over the years," and referred to Breezin's services as "quality" and "impeccable."
Cindy Dervech, owner and founder of Breezin', places her clients' needs above all else, with a heavy emphasis on customer satisfaction. Since 1988, Cindy has worked unwaveringly to make sure that she outperforms every competitor and establishes Breezin' as the premier event entertainment provider for those in need.
There have been plenty of businesses in the Clearwater and St. Pete regions that have praised Breezin's efforts as an event entertainment specialist company, including Trade Winds, Renaissance Vinoy Resort, and Postcard Inn.
Rosemarie Quinones, Event Manager at Hilton Clearwater Beach Resort and Spa, has been referring her clients to Breezin' for the past two decades, citing their outstanding customer service as the reason behind their suggestion. Quinones went on to say that "working with this vendor ensures our client will be taken care of."
Breezin's years of experience and success speaks for itself; they are one of the most trusted, dependable businesses in the entertainment planning industry. With a network of professional entertainers and performers on standby, it is virtually impossible that things go awry when it comes to booking event entertainment.
It may eventually be too late to start planning, but it's never too early; to make sure your event's details and logistics are handled professionally, contact Breezin' today!
For more information or for press inquiries, please contact media relations liaison Dana Blickensderfer at info@ibossadv.com or call 813-775-7107.
About Breezin' Entertainment & Productions
Breezin' Entertainment & Productions is a wedding, corporate, and social entertainment specialist that offers unparalleled entertainment services to its clients. Breezin' Entertainment's mission is to create experiences through entertainment! As ambassadors of fun, the team at Breezin' Entertainment aims to provide a unique level of customer service to ensure that clients are left completely satisfied. Once a client books with Breezin' Entertainment & Productions, the company will handle the rest!
Founded in 1988 by Cindy Dervech, Breezin' Entertainment & Productions has been a top-tier entertainment provider in the Tampa Bay area for almost three decades. Specializing in weddings, corporate events, and social functions, Breezin' tailors their entertainment services to your occasion.
As a licensed, bonded, and insured business [License #TA-000378], Breezin' Entertainment is a company founded on transparency, communication, and trust that aims to provide the client with premier customer service that cannot be found elsewhere.
Breezin' Entertainment provides fast, detailed, organized, and reliable entertainment that clients can count on. Book your next event today by calling 813-701-3523 or by visiting https://www.breezin.com/  
Source: Breezin' Entertainment & Productions
---
Categories: Entertainment, Arts and Entertainment, Business
Tags: BREEZIN-ENTERTAINMENT, BREEZIN-ENTERTAINMENT-AND-PRODUCTIONS, CINDY-DERVECH, CLEARWATER-EVENT-ENTERTAINMENT, EVENT-ENTERTAINMENT, ST-PETE-EVENT-ENTERTAINMENT, TAMPA-BAY-ENTERTAINMENT-AGENCY
---