Breezin' Entertainment & Productions Joins Community Food Pantry to Give Back This Thanksgiving Holiday
For Thanksgiving, Breezin' Entertainment teamed up with The Community Food Pantry and spent time in the North Tampa and Carrollwood Area giving back and donating frozen turkeys, sides, and supportive notes to over 300 families, just in time for the holidays.
Press Release
-
updated: Nov 21, 2018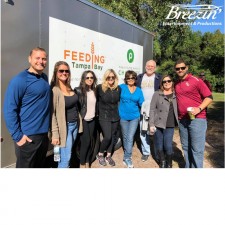 TAMPA, Fla., November 21, 2018 (Newswire.com) - It was a perfect fall Saturday, November 17, 2018, when Breezin' Entertainment joined The Community Food Pantry and donated over 100+ frozen turkeys to the Pantry's Turkey Drive and in return, fed over 300 families in time for Thanksgiving.
Other prominent organizations, such as iBoss Advertising gathered together with Breezin' and helped donate frozen turkeys to families in the Tampa Bay community. Over 300+ frozen turkeys were donated and 300+ families were served.
This is Breezin's second year putting in the hours to feed the North Tampa and Carrollwood community, along with approximately 123 volunteers, which totaled 369+ hours of work. In doing so, 300+ frozen turkeys were given to families in need and about 448 Thanksgiving bags were filled with sides, fresh produce, and supportive notes.
Thanksgiving is a major holiday celebrated by most Americans, it is a time when meals can be shared with family, friends, and loved ones; unfortunately, some Americans aren't as fortunate as others and they can be left hungry on this special harvest day. That is why The Community Food Pantry puts on this food drive to support the community and raise awareness by helping serve families who need financial help this Thanksgiving. This holiday is all about giving thanks and giving back, and that is just what Breezin' did.
"This is our second year participating in The Community Food Pantry's Turkey Drive and I am so amazed each year by the enthusiasm and willingness to help by all the volunteers. This year we were able to provide over 300 turkeys and over 450 bags full of Thanksgiving sides for families in the Northwest Tampa community. We have set a new goal of 500 turkeys next year!" said Breezin' Entertainment founder Cindy Dervech.
Cindy and all her team members are beyond excited to be in a position to give back this holiday season. Serving a meal is a small gesture but sharing a meal makes it even more special. Breezin' Entertainment hopes the surrounding community has a safe and Happy Thanksgiving and blessed holiday season, all throughout the new year.
For media or press inquiries, please contact media relations liaison Claudia Tran at info@iBossAdv.com
About Breezin' Entertainment & Productions
Breezin' Entertainment & Productions is a wedding, corporate, and social entertainment specialist that offers unparalleled entertainment services to its clients. Breezin' Entertainment's mission is to create experiences through entertainment! As ambassadors of fun, the team at Breezin' Entertainment aims to provide a unique level of customer service to ensure that clients are left completely satisfied. Once a client books with Breezin' Entertainment & Productions, the company will handle the rest!
Founded in 1988 by Cindy Dervech, Breezin' Entertainment & Productions has been a top-tier entertainment provider in the Tampa Bay area for almost three decades. Specializing in weddings, corporate events, and social functions, Breezin' tailors their entertainment services to your occasion.
As a licensed, bonded, and insured business [License #TA-000378], Breezin' Entertainment is a company founded on transparency, communication, and trust that aims to provide the client with premier customer service that cannot be found elsewhere.
Breezin' Entertainment provides fast, detailed, organized, and reliable entertainment that clients can count on. Book your next event today by calling (813) 701-3523 or by visiting https://www.breezin.com
About The Community Food Pantry
The Community Food Pantry strives to end the physical and emotional hunger of families in a dignified manner.  Our comprehensive approach to serving our clients that not only alleviates hunger with nutritional foods but also provides support services such as health screenings, and nutritional education for the whole person and homeless outreach.
The Community Food Pantry helped feed nearly 38,000 of your friends and neighbors in 2017. Each year parents who have trouble making ends meet, seniors on fixed incomes deciding between medicine and groceries, individuals who have lost a job or are underemployed.  Over 9,900 local families visited our pantry to receive groceries, a gracious welcome and emotional support as well as blood pressure screenings and information on social services. We anticipate providing groceries to 40,000 people in 2018, more than a third of whom are children. For more information visit, http://www.thecommunityfoodpantry.com
Source: Breezin' Entertainment & Productions
Share:
---
Categories: Charitable Contributions
Tags: BREEZIN-ENTERTAINMENT, CHARITY-WORK, CINDY-DERVECH, COMMUNITY-FOOD-PANTRY, CORPORATE-EVENTS, EVENT-ENTERTAINMENT, HOLIDAY-SEASON, MONICA-WILSON, TAMPA-FL, THANKSGIVING
---