Breezin' Entertainment Partners With Instruments 4 Life for Student Showcase
Press Release
•
updated: Aug 12, 2019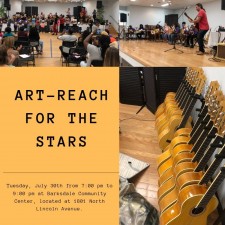 TAMPA, Fla., August 12, 2019 (Newswire.com) - Breezin' Entertainment & Productions has been settled in the Tampa area for over 30 years and loves giving back to the amazing community they are growing with. They continuously strive to support organizations within Tampa that are significantly impacting Tampa's citizens. By selecting Instruments 4 Life as the 2019 Charity of Choice for their next issue of Breezin' Magazine, Breezin' plans to volunteer their time and has joined in the sponsorship of countless music and community-based events, such as the Art-Reach for the Stars Student Showcase.
Art-Reach for the Stars is a showcase presented by the City of Tampa Parks and Recreation Art-Reach program, which highlights the blossoming music and dance students from Tampa's community centers. This year's event was held on Tuesday, July 30, from 7-9 p.m. at Barksdale Community Center, located at 1801 North Lincoln Avenue.
The performing students were from Instruments 4 Life's music programs at Copeland Park and the Jackson Heights Center, the hip-hop dance crew from Rowlett Park, and the violinist group from Cyrus Green. Friends of Tampa Recreation, the Gobioff Foundation, the Felykes Foundation, the Florida Orchestra, Instruments 4 Life, and the Prodigy Cultural Arts Program sponsored this year's event.
Serving the Tampa Bay community for seven years, Instruments 4 Life's goal is to make the world more musical. Believing that every child deserves the opportunity to learn how to play an instrument, Instruments 4 Life has donated hundreds of lessons and instruments to deserving kids.
In fact, they are always looking for new ways to spread the love of art and music. Here are a few upcoming events open to the public that Instruments 4 Life encourages those interested to attend:
Skipper's 14L Benefit Concert at Skipper's Smokehouse from 6-11 p.m. on Aug. 27, 2019
Wobtoberfest at World of Beer – Westchase, All Day, on Oct. 4 and 5
4th Annual Pars 4 Guitars Golf Scramble on Nov. 24 at the Westchase Golf Club
To learn more about Instruments 4 Life or to make a contribution to the charity, please visit https://www.instruments4life.com/. To watch Instruments 4 Life featured on podcast channel Breezin' Chats, please visit https://youtu.be/K2u-ZtPb0wo.
Stay tuned for the next issue of Breezin' Magazine Volume 3, launching Oct. 21, 2019. Opportunities to be potentially included in the next volume of Breezin' Magazine are encouraged. Submit all experiences or industry stories at https://breezin.com/magazine.
For media or press inquiries, please contact media relations' liaison Claudia Tran at claudia@ibossdigital.com.
About Breezin' Entertainment & Productions
Breezin' Entertainment & Productions is a wedding, corporate and social entertainment specialist that offers unparalleled entertainment services to its clients. Breezin' Entertainment's mission is to create experiences through entertainment. As ambassadors of fun, the team at Breezin' Entertainment aims to provide a unique level of customer service to ensure that clients are left completely satisfied. Once a client books with Breezin' Entertainment & Productions, the company will handle the rest.
Founded in 1988 by Cindy Dervech, Breezin' Entertainment & Productions has been a top-tier entertainment provider in the Tampa Bay area for almost three decades. Specializing in weddings, corporate events, and social functions, Breezin' tailors their entertainment services to the occasion.
As a licensed, bonded and insured business [License #TA-000378], Breezin' Entertainment is a company founded on transparency, communication and trust that aims to provide the client with premier customer service that cannot be found elsewhere.
Breezin' Entertainment provides fast, detailed, organized and reliable entertainment that clients can count on. Book that next event today by calling (813) 701-3523 or by visiting https://www.breezin.com.
Source: Breezin' Entertainment & Productions
Related Media
Tags
Additional Links